Alrighty, its Friday and it seems like I always have so much to post on Friday!

Where to begin . . . let's start with the Show-Offs! Slide.com is being stupid today, so no fancy slideshow like last week!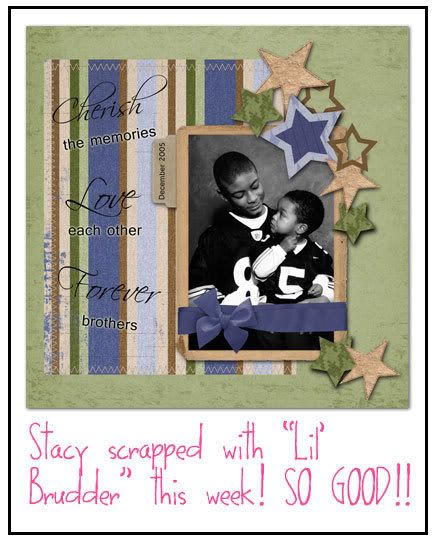 Good on you girls for being a Show-Off! You are all getting my brand new release, "Neat & Tidy" template pack! (if you haven't received an email from me with the prize, let me know)
ENJOY!
My "Neat & Tidy Template Pack" is available NOW at
ScrapMatters
and
Scraphead
.
Aren't they fun??! I should have some LOs scrapped up with them as examples VERY soon. :)
So - yeah, make sure you send me a Show-Off for next Friday to get a goodie yourself. Don't know what a Show-Off is? Well, you just email me the link or the LO using ANY product of mine, freebies, templates, a tiny little staple, anything. And on Friday I show you off and give you a prize. It's as easy as that! So send in those LOs before next Friday to designerbrittney at gmail dot com!
Next item of business, my fabulous friend and fellow CT member at scraphead, Kara Swanson, emailed me and asked if she could create some Quick Pages using my new kit "Lil' Brudder". I did the happy dance and said YES OF COURSE!! Kara is super talented and I was so flattered she wanted to do some QPs with MY kit! Look how FABULOUS they turned out!!
They are available exclusively at
scraphead
! Thanks Kara!! YOU ROCK!
And last but DEFINITELY not least . . . .
ScrapMatters is having a CT Call! Yep! It's time again to hunt down some fabulous scrappers for our team. Our current CT's contracts are up and we are sad to see them go, but we are also very excited for some new blood to join the team! (a little shout out to Scrappy Blue Stones and her new kit "Blue Storm"! I scrapped the ad with it and it rocks!)
(click image)
As the ad states CT Requirements Are:
*a 6 month contract
*4 LOs a month
*occasionally contribute to the Team Blog (as a writer, challenge host, etc.)
*participate in the forum and gallery
*and generally promote ScrapMatters (on your blogs and stuff like that)
You can apply for a spot by emailing the following to andilynn at scrapmatters dot com:
1) a link to your most complete and best gallery
2) a link to your blog or homepage
3) your username and a link to the site you are most active in
4) a short paragraph telling us a little about YOU
In return for all your work on the CT, you will get full access to our shop!! With all our new designers and constant new merchandise, this is a KILLER deal! You will get all my new stuff, as well as all the other designers at SM. You have until Monday, February 11th to apply!!