Happy Memorial Day from rainy gloomy Utah! No fun outdoor activities on Memorial Day here!  From the safety of my covered patio, I took this photo.  There's something wrong with this picture, can you tell what it is?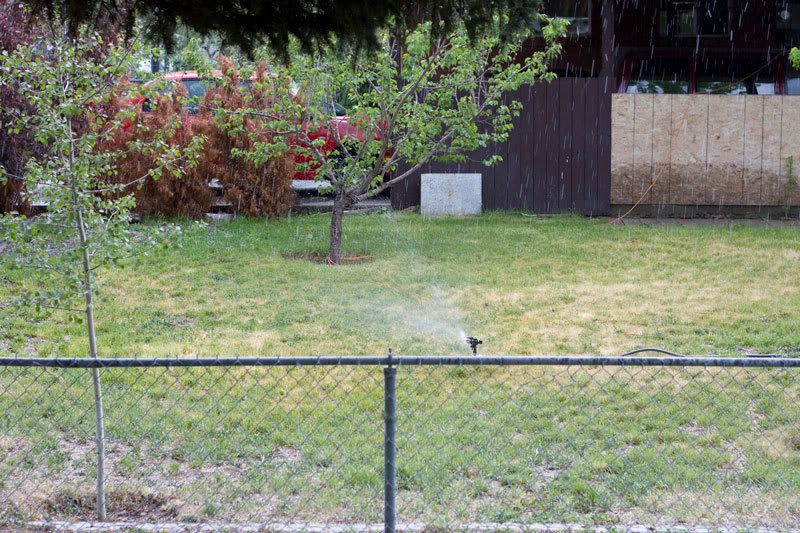 Yes, it was hailing a few moments ago! While sprinklers are a normal Memorial Day occurance, the hail was not!

Josh and I have Death Cab for Cutie concert tickets tonight, but its an outdoor venue, so we're trying to figure out if its going to get rained out or what

We're having another speed scrap at SM tomorrow. I've been loving the speed scraps so I'm really excited. Katie's hosting and the prize is a mystery grab bag!! So that should be fun! Plus there will be two $5 GCs awarded. It's tomorrow at 8:00 Mountain Time. You can check out all the details here.

For those who are wondering, the cornbread recipe was a success. Eventually.

I cooked it for an hour and it seemed ok, but when we went to leave for my mom's house I noticed it was REALLY heavy. We got to my mom's house and I realized it was NOT fully cooked. We put it back in and kept testing it. Almost another hour later, the center STILL wasn't cooked! Randomly, Debbie, my mom's friend whose recipe I used, stopped by, so I asked her, "What the heck, Debbie!?".  She said that our higher altitude makes it cook slower. Anyway - it was time to eat, so we cut pieces from the sides and it was DELICIOUS!! But even after about two total oven hours the center never did cook. My mom and I decided to cook it in our Texas Sheet cake pans from now on and it would be perfect. Or in muffin tins would be good! Regardless of the battery center section, the outsides were AWESOME!!! (I wonder if maybe the temperature in the recipe she gave me is a typo!) Even if you don't like cornbread, try this recipe. It's sweet and delicious!!




Debbie's Cornbread Recipe:

1 cup margarine or butter
2 cups sugar
4 eggs
2 cups yellow cornmeal
3 cups flour
4 tsp baking powder
1 tsp salt
3 cups milk

Cream sugar and butter. Add eggs and beat. Stir in corn meal, then add rest of dry ingredients, alternating with milk. Pour into greased pan. Bake at 375 for 60 minutes or until toothpick or knife comes out clean. (<--- took me a LOT longer than this!!!)

I will definitely be making this again. It was so yummy!!

Ok - last thing to post about!! My good good friend Leslie and I are staring a photo-a-day blog to keep in touch and learn how to take better pictures! It's called "Photos Between Friends". We write and post to each other but we welcome visitors and love comments. Come over and watch us learn if you'd like.  I posted my photo already.  Les should be posting hers sometime today.

Well, hope you're having a great day!! I think I'm off to scrap a little!!! Bye!