*UPDATE* Be sure to check out the "Mermaid Lagoon: REVISTED" for even more MERMAID GOODNESS!!!

It feels so funky to be posting new stuff on a Thursday! I've been doing it on Fridays for so long now! But I'm actually glad it worked out this way because I'm sooooo excited to release . . .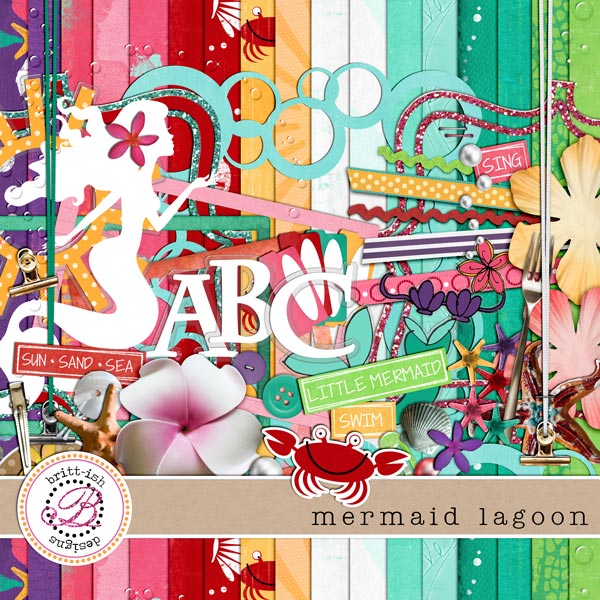 Here are a few detail shots for ya (click to enlarge)!
Isn't it BEEE-UTIFUL?! I just LOVE mermaids! Always have. When I was little my friends and I used to ALWAYS play mermaids when we would go swimming. I had mermaid toys, dolls, etc. And of course - "The Little Mermaid" was my FAVORITE. I love Ariel! I've been scheming and planning and saving up stuff to make this kit for a LONG time now and its finally here!!! YAY!!! I went nuts and it turned into a MEGA KIT. It's huge! I swear, you can scrap so many pages with this one!!
*UPDATE* Be sure to check out the "Mermaid Lagoon: REVISTED" for even more MERMAID GOODNESS!!!
I also whipped up (using my own Ariel LOs and a LO from Tami and Ashley) a gorgeous little 12x12 Quick Page Album!
AND . . . if you can handle more cute-ness . . . I felt inspired to make an entire coordinating pack of burst-patterned paper!!!
I went a little nutty and scrapped a bunch of pages with the new schtuff. So, let's look at my LOs first and then I'll show you my teams'!!
OK - I have SO many cute pics from when my little niece met Ariel for the first time. I HAD to scrap them ALL!!!
Funny thing!
Marci
(my SIL) had to scrap them too! HAHA (Marci and I are both NUTS for Ariel!!)
As always,
Erica
went above and beyond with not 1, not 2 but
THREE
fabulous LOs!
The extraction queen at work:
And proving that its not only for the girls . . .
Tami
also showed me how FABULOUS this kit looks on the little MEN.
Ashley
is such an inspiration! I LOVE what she created!
I couldn't believe this was the same kit when
Leah
emailed this beauty to me! This kit is seriously so huge, you can get a TON of looks out of it!!
My resident 2-Pager Princess, Danica, scrapped this ADORABLE bathtime page!
Zakirah
NEVER ceases to amaze me with her fabulous style!
And one more!
Jeni
scrapped this PERFECT LO. I love love love how it all matches her photos!
Gosh - aren't they fun?? Usually by the time I release a kit I sort of need a break from looking at it or scrapping with it, just because I've been staring at it for SO LONG! But I can't get sick of this one! It might be my personal favorite of all my kits! I hope you love it too!
And with a new kit, of course comes a little add-on freebie!! Just a few more things that I just had to make! :)
Click
HERE
to download and be sure and say hey when you do!!
OK - what are you waiting for?! You got your freebie, now go check out all the new stuff in the
shop
!!! :) Thanks for reading! I can't believe my hit counter is over 104,000! WHAT?! That boggles my brain. But thanks for stopping in and I hope you saw something fun today! :) :)
See you guys on Saturday after my camping trip to post the Show Offs!!