HOLY COW!!! It's been a whirlwind, and I couldn't even blog about it until now because it was a surprise! Ok - so here's what happened . . .

On Wednesday night Josh's aunt called him and wanted to fly us (Josh, me and Tami - Josh's sister) out to Los Angeles for to surprise Josh's grandpa for his 90th birthday. We got flights arranged by Thursday and on Saturday morning (after about 3 hours of sleep) at 3 am we woke up, by 6 am we were taking off for LA, by 8 am we were at Disneyland for a last minute day of magic. Yes - you really thought we'd go to LA and NOT go see the Mouse?




We spent about 17 hours at Disneyland (yes, on 3 hours of sleep!) from 8:15 am until they kicked us out at 1 am!!   Then we drove to Hollywood, passed out at Josh's aunt's house, woke up the next day at noon, got ready, and drove to Rondono Beach for the big surprise. They were all having dinner on the pier, so when they were all seated, we went in and SURPRISED 'em! haha It was SO FUN! They were all dying! It was awesome.

Then we ate and talked and hung out as long as we could. Then it was back to a hotel for a little shut-eye and onto a plane first this morning!!
SEE! I told you, a whirlwind!!
But it doesn't end there. Toward the end of my trip I found out that Marci and Christian were moving their summer sales office from Indianapolis to Albuquerque and that Marci was going to be home in Utah for a while!!  So - she came over today and dropped off Eden while she went to a doctor's appointment. Auntie Brittney and Eden played dress up while mommy was gone.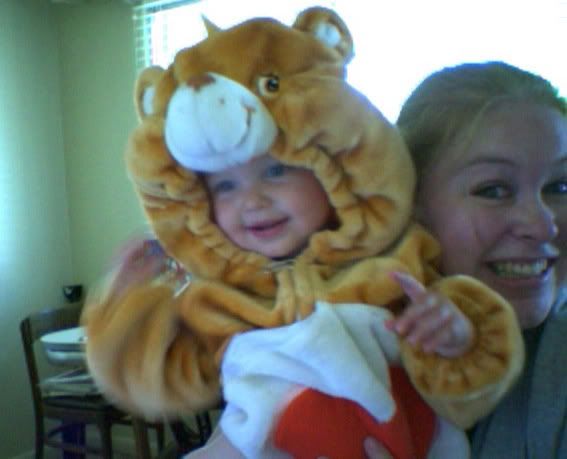 She LOVED being a Care Bear. Of course we had to go outside and take pictures!!
It was so fun and surprising to see them!  And I'm happy to say they aren't leaving for a while!! So I get to see them lots!  Hooray.  If only my brother were with them! :(  But he's out working hard. 
So yeah - that's been my crazy whirlwind life these days!! Gotta get back into a rhythm and normalcy somehow. :)
I'll post more pics and tell you about our amazing - exhausting - but mostly amazing - day at Disneyland when I get the pictures edited later.