I've had a few requests for some GIRL soccer flair, so I threw a few together for whoever would like them.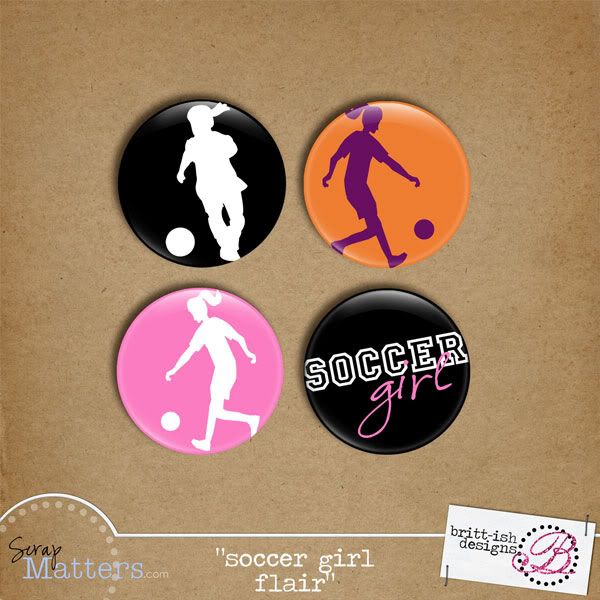 Download your freebie HERE. Enjoy.

So guess what, I'm getting pirated AGAIN! I seriously don't see where these Yahoo Groups get off taking kits. It's not like stealing from some faceless mega corporation who makes millions of dollars (not that I support that either! I'm again pirating of ANY kind). But to steal from a little digital scrapbooking designer. Holy cow, that is disgusting.

And the worse thing is that in this email that went out they made sure to say "Don't contact the designer. What we're doing isn't illegal, we're borrowing, not stealing". Can you believe that?! What liars!!!!!!!!!!! I am not as fuming as I was last time this happened, just disgusted at the dishonesty of some people.

Hey, are you signed up for the ScrapMatters.com Newsletter? If not, you are missing out on some awesome stuff. For one, you get a full free kit in every issue. The new one coming out is amazing, trust me, so make sure you're subscribed. All you have to do is go to the shop home page, and on the left hand column, where it says "Your email, subscribe", just enter your email and hit the subscribe button. I've seen the November Issue that is coming out and its awesome. Full of fun articles, interviews, tips and tricks (one written by me!) and of course, that awesome free kit. So sign up, so you don't miss out!

Speaking of getting free stuff, did you know that you can get a gorgeous Welcome Kit from ScrapMatters just for becoming a part of our community? Erica Zane just created a brand new one, so you should go see it and read the post about how you get it. It's really pretty! I'm excited to use it!!!
We're totally rearranging our living room/dining room/my office area.  I got totally fed up facing the wall with my back to front door and HAD to make a change.  But our living room is an impossible shape and we could NOT for the life of us figure out a way to set it up any differently.  But then - my brilliant aunt who has this magic eye for interior design came over for Beading Beauties the other night and I knew she'd figure it out for me!  It only took her like 5 minutes!  I love how its looking so far (its not done yet).  And the best part is I get to face the big front windows and actually see the world all day.  It's very refreshing!  
OH and I hope you didn't think I'd forgotten all about the new couch fund.  We raised enough money for the new couch (all thanks to you!!!) so we've been couch shopping.  I think we sat on like 50 sofas last Saturday night!  We still haven't found THE ONE yet, but we're looking!  I can't wait to get ride of our eye sore of a sofa, and make my living room look better!!!!  As soon as I find THE ONE, I'll post pics.
Well - I've got lots of work to do, so I better run. See you kids later. :)