So I remember seeing a few people's "elf" videos last holiday season, but this year the videos really improved!! I made this one for us, and I about die laughing every time I watch it. I think I've watched it 10 times now. Somehow Josh got put in the girl's role and . . . well just watch it!!


Hope that made you smile!!
So guess what!! We're having a hug Black Friday celebration at ScrapMatters!!
I just finished my grab bag last night and I went a little nuts on it!! It's PACKED to the brim with new products. I can't WAIT to release it!!!
We are really excited about our Black Friday blog train too. You won't BELIEVE the stash of treats you'll pick up along the train. It's incredible.
Ok - so I need some help. I REALLY want to decorate my living room but I'm sort of at a loss. A) with Christmas right around the corner we have no money to decorate. And B) I have paneling on 2 of my walls! And as renters there's nothing we can do about that.  So . . . how do I decorate around my paneling?? I've been thinking of doing a brown, white and light blue color scheme (I really wanted lime green and brown but Josh put his foot down and said no to the lime green! haha).  But do like retro style, so our old retro house should lend itself to our style.  Right?  haha
So - here's my room. HELP! What does it need? Send pictures, links to great decorating ideas, stuff like that!!
We're hoping to find an amazing deal on a flat screen this holiday season, which would also give us an excuse to buy this awesome entertainment center from Ikea we've been eyeing (sorry I can't find it online to show you). So, hopefully that's what the wall with the TV on it will turn into someday in the not too distant future. But we'll see. . .
But our weirdo off center fireplace is a problem. The mantel super skinny & therefore hard to decorate. And then there is the issue of lighting. Right now the lighting set up is sort of a joke!!
And here's our new couch. Isn't it so pretty?!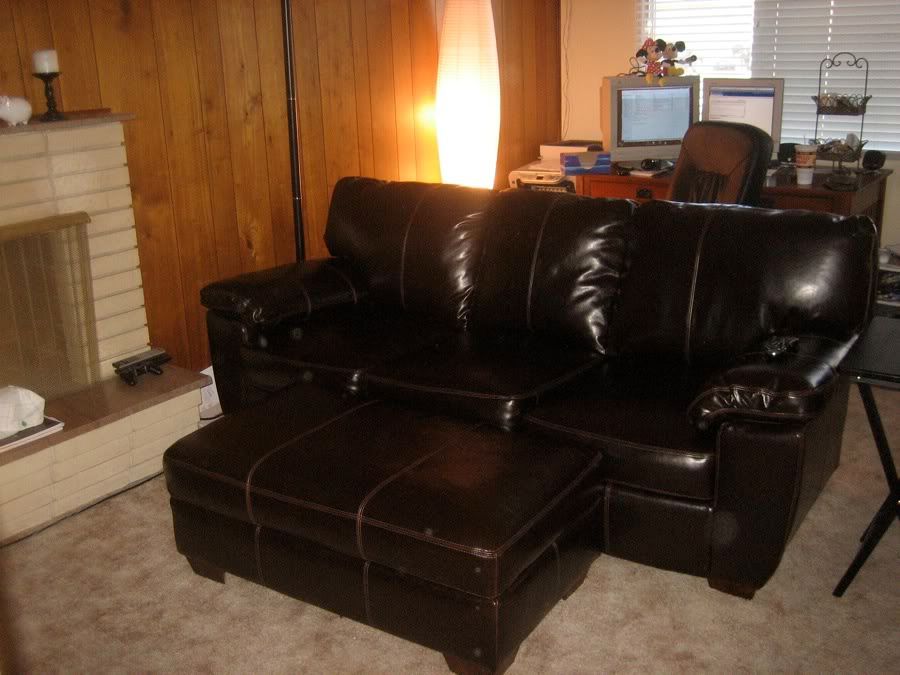 And my office area - where I live - right behind the couch area.
We both love our paper lamp, but this is a horrible place for it. Where should it go??
And this big cool retro wall box thing and a big empty wall is just to the left of the TV wall.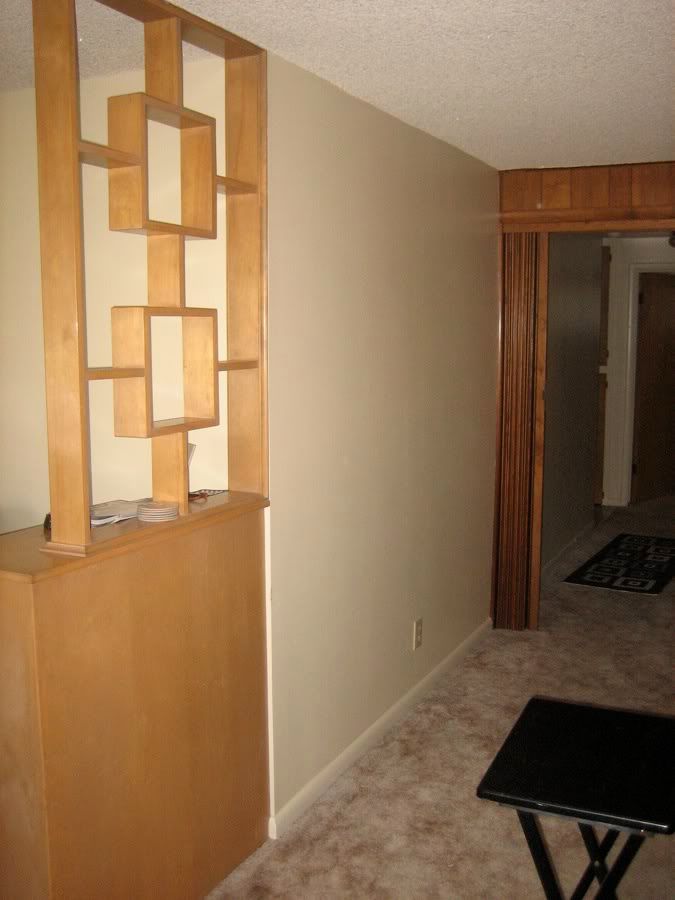 I was thinking of doing
this
on this big empty wall. But I'm not positive. There is also one other good place for this but its in the dining room area.
Ok so HELP!! I know there are plenty of you out there more talented in the interior design arena than me!! Christmas decorations are going up this weekend, so I can probably stand to have it this way + Christmas stuff until the new year when I have some money for real decorating. But I still need help!!
Ok - that's enough blabbing from me for today. Can't wait to see what you guys come up with!!
Peace out.