Woo hoo!! It's Friday. The reasons I'm excited are three-fold:

1) It's almost the weekend and that means spending more time with Josh.

2) In two weeks from today I'll be on my way to DISNEYLAND!!

3) I get to release my AWESOME new kit today!!

So - let's get to it! Here is . . .

"Love Bytes"




This is my little digi-twist on a Valentine's Day kit! :) Perfect for us digi-girls, and versatile enough for WAY more than love and couples! I don't know about you, but I can only use so many lovey-dovey kits! :) :) And this time, just for fun, I threw in a BONUS TEMPLATE that comes with the kit!!

And, as usual, there's an additional free bonus alpha for you if you buy during the first week!!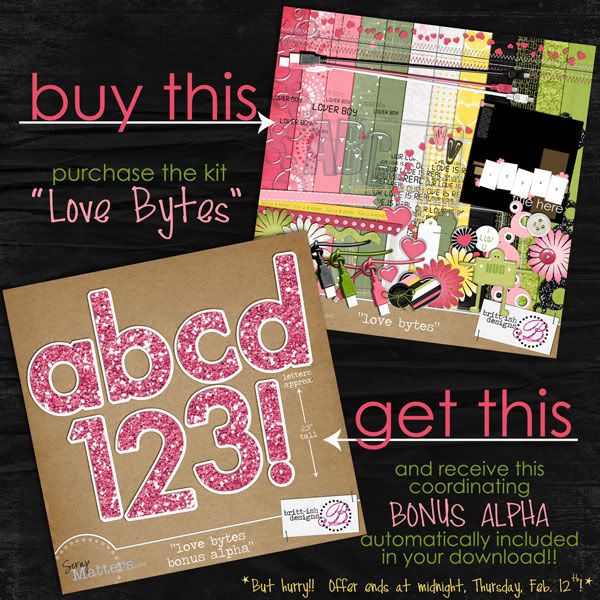 And there's ALSO A FREEBIE ADD-ON at the end of my post. So make sure to read all the way down and snag it!

This is what I scrapped with "Love Bytes".




(This photo is when I met two of my online ScrapMatters digi-friends, Kathleen (kv2av) and Stacy (shutch) back in October!! That was such a fun afternoon!!)

And let me show you what the AMAZING FABULOUS OH-SO-TALENTED Britt Girls scrapped with it!!!




Aren't they so awesome?! Girls, you blew me away again this week!

So, as you can see, this kit is totally versatile and so much fun!

I also have a new alpha out today . . .

"Wrecked Alpha"




It's basically two alphas in one! It comes in both 'wrecked' AND 'super wrecked' versions!

Alright - are we ready to see some show offs?


ANOTHER amazing week! Thanks to everyone who emailed me their LOs this week!! You're all getting my new "
Wrecked Alpha
" as my gift to you this week.
Showing Off is easy! If you want to be a Show Off, just email me your Britt-ish Designs layouts before Friday at midnight and I'll put you in my slideshow and send you a little gift each week. Make the subject of your email "Show Off" and size your layout to about 600x600.
Ok . . . you've waited long enough! Here is your "Love Bytes" freebie add-on!
DOWNLOAD HERE!
Enjoy!!!
Have a super great weekend!! I'm REALLY hoping I can get Josh to take me to see "He's Just Not That Into You". I'm dying to see it!!!!  Oooh that reminds me, I haven't done any movie reviews lately.  I'll try and squeeze some in over the weekend.  See you peeps later.