It's Friday people and its HOT HOT HOT at Britt-ish Designs. I've got island fever, and there's only one cure!! The release of my new kit!!!

"Ohana"




I've had a lot of requests over the past year for a "Lilo and Stitch" inspired Hawaiian kit. And this week I felt inspired to explore paradise with a bright happy sun-filled kit!! And this is what I ended up with! I quite like it. I had so many ideas, the kit sort of got enormous! But oh well - the more goodies the merrier right?! AND I have a very sweet bonus alpha, FREE with every purchase of "Ohana" during the next week!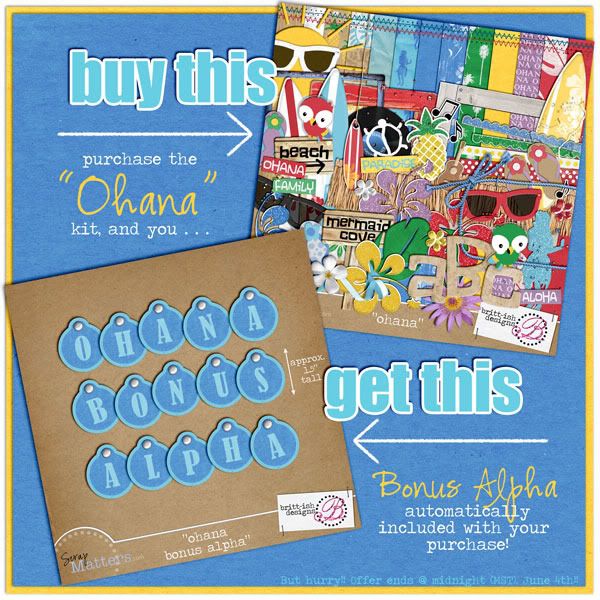 That's a pretty sweet deal! And as usual, I have a freebie add-on at the end of this post. So make sure you read ALL the way through.

NOW - let me show you what my team and I scrapped with "Ohana"!!!!

By Me:



Yes, I added parrots to this kit simply because I wanted them for this page! HAHAHA I had to have some cute little Tiki Room birds!

And by my fab team:


I know I say this every week, but aren't they just great??! They blow me away EVERY single week with their beautiful and creative work!

So - let's take a break from our happy little luau we're having and check out this week's Show Offs!!


This week I've been updating my store to make sure to include all my word art packs. Since the move last fall, a few sets went missing. But they're all in the store now, so this week I decided to give the Show Offs their pick of any one of my Word Art packs!
If you were a Show Off this week, watch for your coupon to be emailed to you today!
If you'd like more info about how YOU can be a Show Off and get free stuff from Britt-ish Designs too, read the end of
THIS POST.
Ok - here is the "
Ohana
" add-on I promised you!!!
>
DOWNLOAD IT HERE
< 
Have a great weekend everyone! Enjoy your "Ohanas" (Ohana means family) and get outside and enjoy the sunshine if you have it where you are.  OOOOH and I hope to see lots of you at some of the
SM Speed Scraps
going on this weekend!  It should be a lot of fun!!