Good morning and happy Friday!! It's new release Friday and I've got a REALLY fun new kit to release today!!

"Hooligans"




Some of you might remember that my husband's soccer team's name is the Hooligans. So - thanks guys, for the inspiration for the name. But this kit is mostly just fun, boy, mischief, happy kid style.

Here's what I scrapped with it:



These are my cutie nephews from a photo shoot I did with them 1 whole year ago!! Time really flies. (I'm wondering if anyone gets a laugh from my 'Tommy Boy' reference in the title).

And here's the beautiful creations by my Britt Girls:



Aren't they amazing?! I loved the versatility that came out of this kit!!

Make sure you read to the bottom of the post because I have an add-on freebie for you as well!!!

And I also have one other new product today as well.

"Glitzy Wordlettes 2"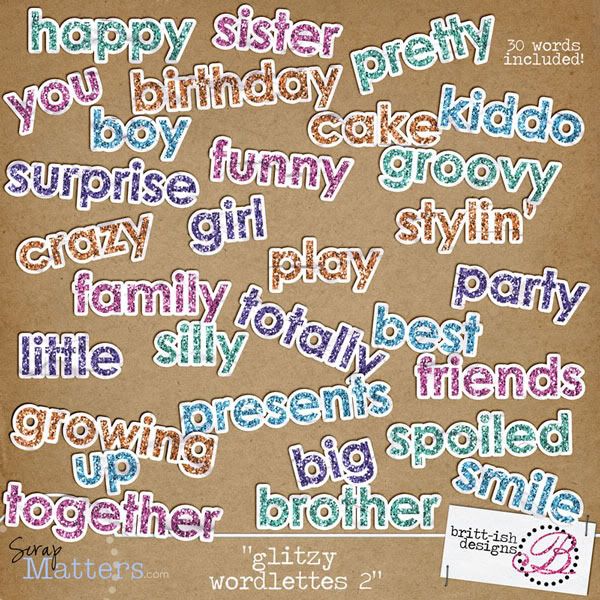 I decided it was time for another round of Glitzy Wordlettes. The originals were released a LONG LONG time ago. You can see how cute these new ones look in Christy's LO above!!

Ok - new products released? Check. That means its time for SHOW OFFS!


FUN SHOW OFFS huh?! Thanks to everyone who sent them in this week. You'll all be getting my new "Glitzy Wordlettes 2", so watch your emails.
If you want to find out more about being a Show Offs and getting free stuff each week, read the bottom of
this post
.
There have been some changes at ScrapMatters this month, one being that the new products are being activated much earlier than they have been in the past. SO - here's what I have to do in order to keep up.
**SHOW OFFS PLEASE READ THIS**
Show Offs have always been due at midnight MST on Thursday nights. But, I've always been lenient and allowed any that come in before sun-up to be included. Unfortunately, I won't be able to do this anymore. I'll be taking any LOs that come in before midnight, but that's it!  Anything after midnight will have to go in the next week's batch.  So turn 'em in ON TIME.  The reason is, I'm going to set my post to publish itself early early in the morning when the new products are activated (it will be like crack of dawn Eastern Time. I am so NOT getting up that early!! HAHA).
Alrighty - that's it from me. Before I go, here's the freebie add-on to "Hooligans" that I promised you!!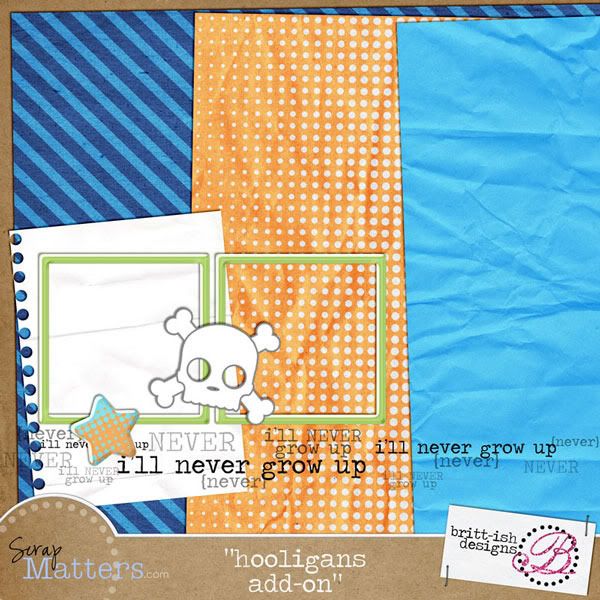 DOWNLOAD HERE
ENJOY! I hope you all have a wonderful weekend. My sweet, amazing, fantastic, loving husband has some surprise up his sleeve, so I have no idea what we're doing this weekend. But I LOVE surprises, so I'm super excited. :) :)