Sorry for the lack of posts this week!!  It's been an insanely busy week.  Between making my CT call choices, working on an upcoming collab, getting today's new product ready, and preparing to leave for Bear Lake tomorrow, I have definitely not had a spare minute to blog!!!

BUT - before I get to my new product. I have an announcement that I think many of you have been waiting for!! I had ninety applications come in for my Britt Girls call. This week has seriously been a roller coaster. Fun to look through so many inspiring and amazing galleries and read such great applications, but awful having to turn away so many of you!  The good thing I got out of it all was a fabulous new team. So - without further ado - the new Britt Girls . . .

I'm so excited to have you all on my team!! It's going to be a good time!!! I can't wait for you girls to all get started tomorrow!
Alrighty - on to the new product for today!!
"Faith, Trust & Pixie Dust v.2"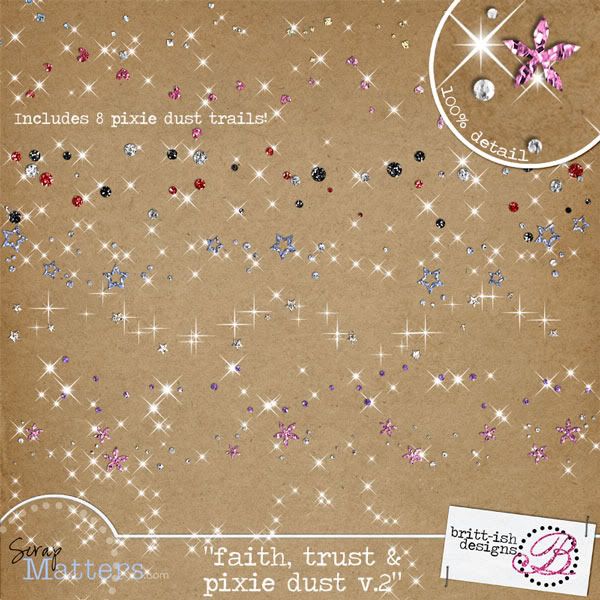 I thought it was time for an all new (slightly bolder) set of Fairy Dust trails!!  If you don't have the delicate originals, you can get 'em
here
.  Check out what my Britt Girls created with it volume 2!

Aren't they fun?!  They just add that extra little touch of magic that every page needs!
Ok - time for Show Offs!!
this post
!  I will be back from Bear Lake on Thursday, & I
will
be doing Show Offs next week, so feel free to send those in!
And that's it from me this morning. I've got a million things to do before we leave tomorrow morning, so I gotta run!