We're back from our fun trip to Bear Lake!! We actually left a little earlier than planned. Wind and rain was rolling in on our last night, so we decided to pack up quick and go home, rather than get rained on and go home in the morning. So we got in about 1 am last night. I slept HARD and woke up about 1 this afternoon. Yeah - I was TIRED!!!! Once I get caught up with work, I'll edit my photos and share some with you guys!!

I have to tell you about what's going on this weekend over at ScrapMatters!! It's AWESOME! We're celebrating our 2nd birthday already!!! There are a TON of fun events and things going on this weekend as we all wish SM a Happy Birthday.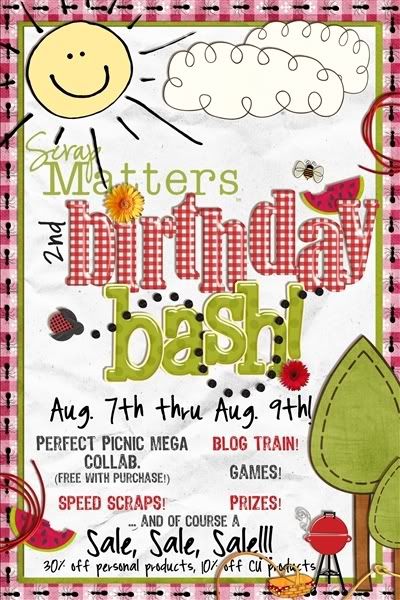 Go read all about it!! I'll be hosting a fun forum game that starts on Saturday (8/8)! Lot of prizes to be won! An AWESOME freebie blog train starts on Saturday as well (with a stop here at my blog for a sweet freebie!!!) And I'll be attending the Speed Scraps too!! And how can you miss that SALE!!! Let me tell you, that mega-kit ("Perfect Picnic") that's free with a $15 purchase, is FABULOUS!!!! Make sure you get it!

AND one last little bit of info for you. I have a SERIOUSLY AWESOME new collab. kit coming out tomorrow too!!!! (Yes, it will be marked down with the birthday sale!!) So - I thought I'd give ya a little sneaky peek!!!!




Come back tomorrow for the release!! I'm off to get caught up! See ya tomorrow.