OK - before I forget - AGAIN!! You may or may not have noticed that I added a little email subscription option on my sidebar (under my recent layouts slideshow). You can sign up to get my blog posts delivered right to your email inbox. Sorry it took me so long to get my butt in gear and get that set up. But better late than never!!

Alright - back to the business at hand. I have a new collab. kit to release today. Molly DeCrow (of DeCrow Designs) and I teamed up once again to bring you . . .

"I'm Yours"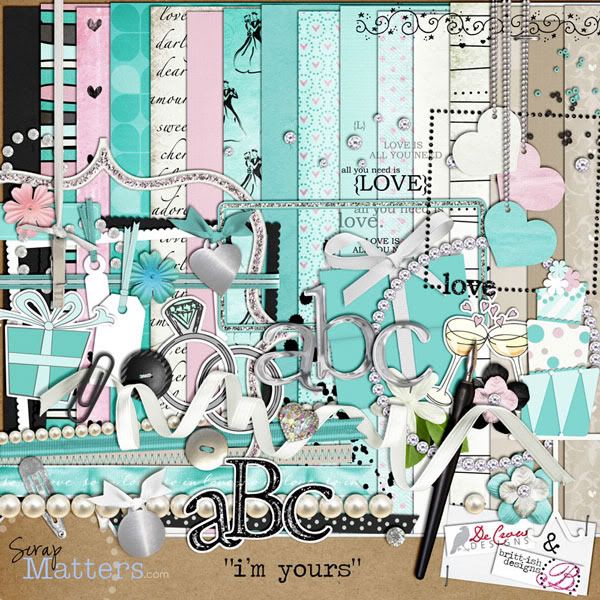 Inspired by every girl's favorite little blue box and her best friend, this kit is so full of glitz and romance, its sure to please.  AND we also have a little word art pack in the store that coordinates . . .

"I'm Yours Word Art"




Make sure you read through the end of this post for two freebie add-ons from both Molly and I!!

As you know, I've been gone to Bear Lake all week, so I don't have a page by myself, but let me show you what my brand new Britt Girls created. (Get comfortable!!! The new Britt Girls are out in force with this one and there are a ton of LOs!)




Aren't they fabulous?? I'm just tickled pink with my new girls!

Ok time for Show Offs!

this post
!!
OK - time for the add-ons I promised you!! Here's mine: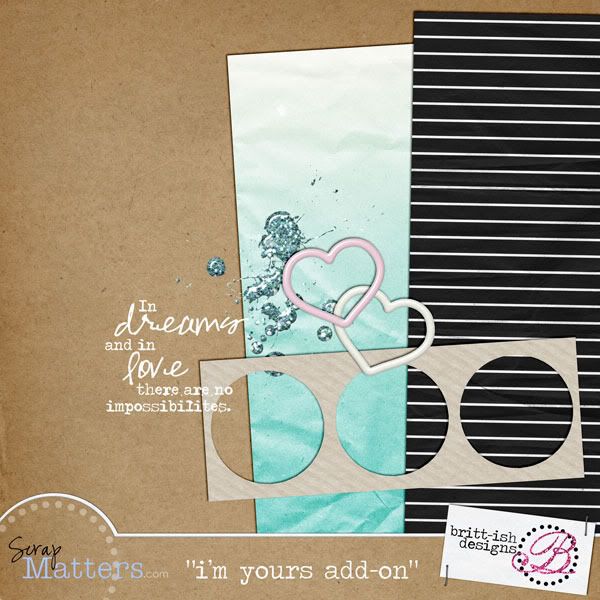 Download
here
! And then go over to
Molly's blog
to snag her add-on freebie too!!
And that's it for today!! Have fun shopping SM's big birthday sale!! I'll see you tomorrow for more games, blog train, and ScrapMatters 2nd Birthday celebrating FUN!