So its finally Friday. Which means I can release my new kit!!!! That is . . . if you can 'FIND' it!



Here it is!
"Fish Are Friends"
I am 100% selfish in designing this kit! I REALLY needed that perfect Nemo/Subs kit to scrap my first big ride on the new subs back in '07. It was the summer the subs finally came back to Disneyland and we were there to ride the brand new "Finding Nemo Submarine Voyage"!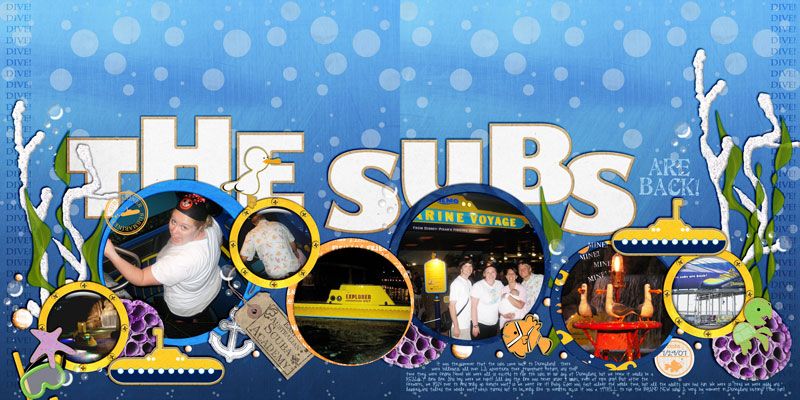 HOWEVER this kit is perfect for SOOOO many memories (as you'll see in my Britt Girls' LOs!) Sea World, the aquarium, the beach, scuba, pool parties, your pet fishies, and so much more!!
Awesome, right??? And yes, there is a freebie in store for you at the end of this post. So make sure you grab it before you go!
Also new in the store today, I've got a little template pack!!
"Pocket Full of Templates 3"
Check out what my Britt Girls scrapped with these!!

I love my Britt Girls! Thanks so much ladies for your amazing work!
So . . . you all know what time it is. Time to enjoy some Show Offs.
Thanks to everyone who showed off this week. You'll all be receiving my new "Pocket Full of Templates 3" as your gift this week. If you aren't showing off yet, why not start now?? To find out more about being a show off, read the end of
this blog post
.
Ok - here is your "Fish Are Friends" freebie add-on! ENJOY!!
Download here!
Hope everyone has a beautiful Friday and a happy weekend! On Saturday night Josh and I are going to "Dancing Under the Stars" at a local outdoor theater with my parents. It's past So You Think You Can Dance stars who formed a group and are going around doing shows!! Thanks Mom, for hearing about it and getting us tickets! It's going to be SO FUN! I can't wait! Hopefully they'll let us take our camera in so I can post pictures and tell you guys all about it!
See you later!!