BIG news!! Carol, the owner of MouseScrappers, has convinced me to join her on a meet & greet/whirlwind vacation at Disney World this fall!!!!!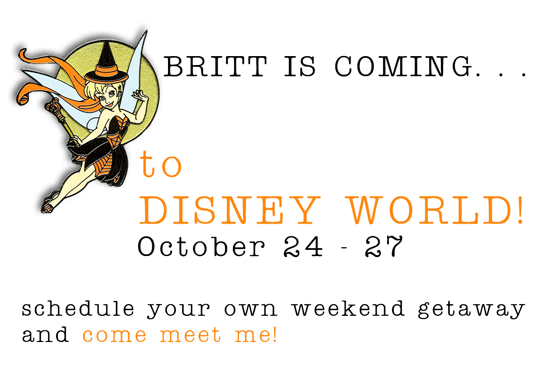 We'll be enjoying the Halloween Season at Disney World!! I actually fly in the 23rd and fly out the 28th, so I'll be in the parks from the 24 - 27! I would LOVE IT if we could have a big meet up one of those days and also if you want to join Carol and I for a meal, or some rides, etc. that would be awesome too!!!!

If you schedule your trip and book before this Saturday, Aug. 14th, you can get FREE DINING!!!! Which is how Carol convinced me to go! haha!!! The deals are GREAT right now. And you can just put your deposit down now and then you have a large window of time to cancel and get your deposit back. But if you're even considering it, book by Saturday to get the free dining!

Carol can help you book your trip (she's a travel agent and I swear she knows EVERYTHING!!) So, if you send her a Private Message (username Carolc) at Mouse Scrappers or send her a message HERE, she can totally help you out!

Carol and I are staying at Pop Century Resort. So you could even stay in the same resort as us. Maybe we could have a little pool party! The ideas and possibilities are just rushing through my head!

If you can come, PLEASE let me know!! Email me at designerbrittney at gmail dot com. I can't wait to see who I might be able to meet!!!

It's a great excuse for a couples weekend away, a mother-daughter trip, a girlfriend trip, etc!!

So . . . YAY! I'm going to Orlando, people. Who's with me!?