*comments closed - giveaway entry deadline has passed*

So we teased you a little bit on Monday, and we're about to tease some more!!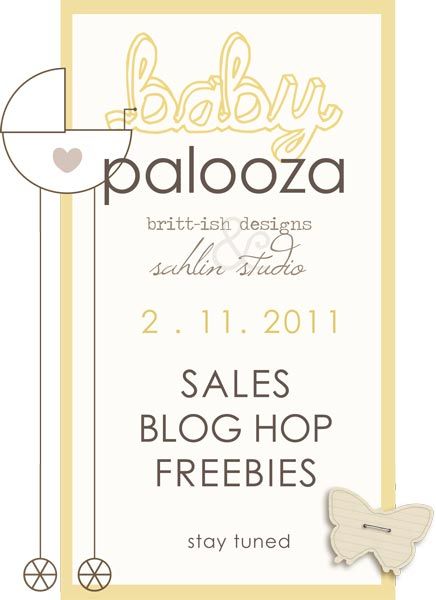 Yep, many of you already guessed it but Sahlin Studio & Britt-ish Designs are having a celebration this weekend, which we're calling Babypalooza. That's all the info we're giving you right now, but believe me, you won't want to miss it. It all starts this Friday, 2.11.11 (which just happens to be my ONE MONTH MARK!).
And we're having a sweet little giveaway too. Help us spread the word about Babypalooza and you could win! You have FOUR chances to enter from both me and
Sahlin Studio
(so technically, that's 8 chances to win).
* If you comment on this post with the word "BABYPALOOZA!" you get 1 entry!
* If you post the teaser ad above on your blog above you get 1 entry! (just right click and save the ad)
* If you facebook the teaser ad you get 1 entry! (make sure your facebook post links back to this blog or
my facebook page
)
* If you retweet this teaser ad you also get 1 entry!
In your comment on this blog, you'll need to indicate and link to where and how you entered!

THE DEADLINE TO ENTER IS THURSDAY NIGHT (tomorrow night) AT 9PM MOUNTAIN TIME!!
So what do you win?? Lemme tell ya: I'll draw 1 winner, who will win ALL my new products coming out this weekend. Krista will also draw 1 winner from her entries
(see her blog)
that will win all her new product coming out this weekend. And we'll draw 1 grand prize entry out of both of our entry pools combined who will win ALL MY NEW BABY STUFF AND ALL KRISTA'S NEW BABY STUFF!!!
Clear as mud?! Let me know if you have any questions.
Check back tomorrow for sneak peeks!! Have fun entering the giveaway!
*comments closed - giveaway entry deadline has passed*