Hi there peeps! You may have noticed in my pics from our Disney trip Scarlett was rollin' in a VERY sweet new lime green stroller. We recently purchased the Joovy Kooper. We wanted a light-weight stroller that was somewhere in between an umbrella stroller and a larger heavy-duty stroller. After doing our research, we had heard some great things about the Kooper, and we totally loved how it looked, so we went for it!


RIGHT NOW THE JOOVY KOOPER IS ON SALE FOR $99 and FREE SHIPPING!!
HOLY SMOKES THAT'S A STEAL. The discount is only while supplies last, so if you like what you see, get it while its such a killer deal! (I'm jealous!! HAHA! I paid full price!)
Taking any stroller on a Disney trip puts any stroller to the test! Rockin' and rollin' around Disneyland is a much more intensive test, than say, a leisurely stroll around the block. We were hoping the Joovy Kooper would live up to our high expectations. And in many ways, it did.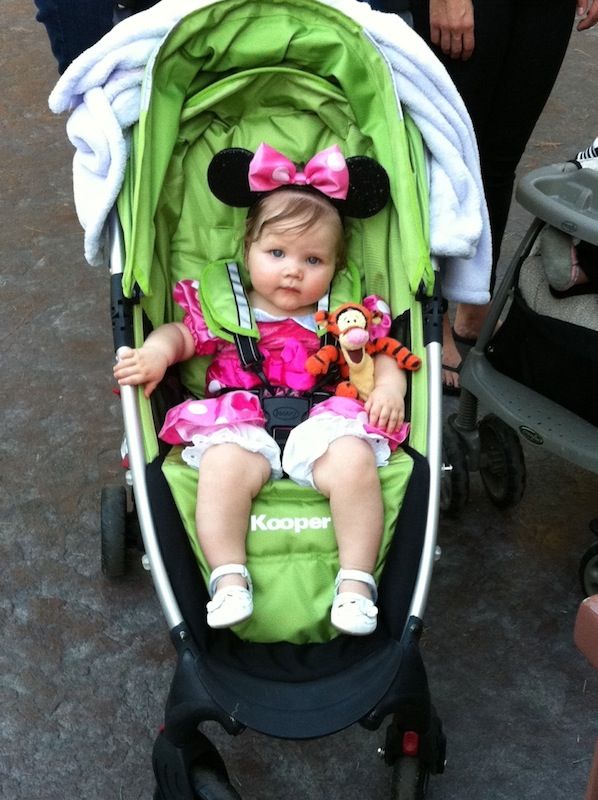 PRO: GREAT LOOKING, BRIGHT COLOR.
Isn't it cute?! I love the way it looks. Joovy calls it their "euro-buggy". From the moment we took it out of the box and popped it up were were all oooohs and ahhhhs. I totally love the bright lime green color, which Joovy calls "Appletree". And MAN did that bright color come in handy at Disneyland. Spotting our stroller in the chaos of stroller parking areas was a snap!
PRO: ROLLS GREAT, STURDY, HIGH QUALITY WHEELS.
And it rolls GREAT! The wheels seem super sturdy and high quality. It turns and rolls VERY easily. No complaints at all in the way the Kooper handles.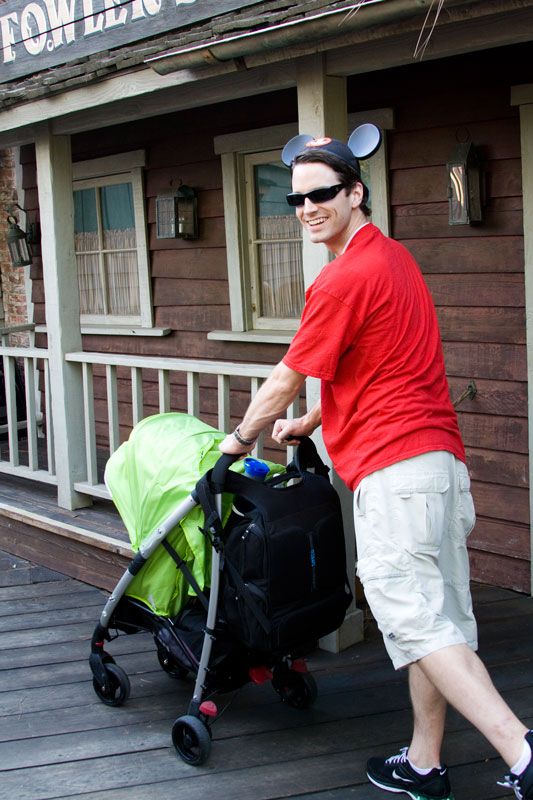 PRO: DURABILITY, CUSTOMER SERVICE.
I can tell the Kooper is going to last us a long time. The fabric is super sturdy and all the mechanisms and parts seem really high quality (except for the basket snaps - keep reading - I'll get to that). Plus, even though it seems sturdy and high quality, its pretty lightweight too! And it holds kids up to 50 lbs, so Scarlett can be rollin' in her Kooper for a long long time! And I know if I ever have a problem,
Joovy
will help a girl out. When I've spoken to them on the phone, a real person answers! No waiting on hold forever, or getting lost in a maze of an automated system! They are really nice and always helpful.
PRO: KID COMFORT, MESH KIDDIE POCKETS.
Scarlett always seemed really comfortable in it. I liked how wide the seat was. Plenty of room. Sometimes I think kids look a little squished in umbrella strollers, but not the Kooper. There are also really handy little mesh pockets on either side of Scarlett where we could tuck toys, sippy cups, etc. Its where we always stashed her pacifier so we always knew where it was!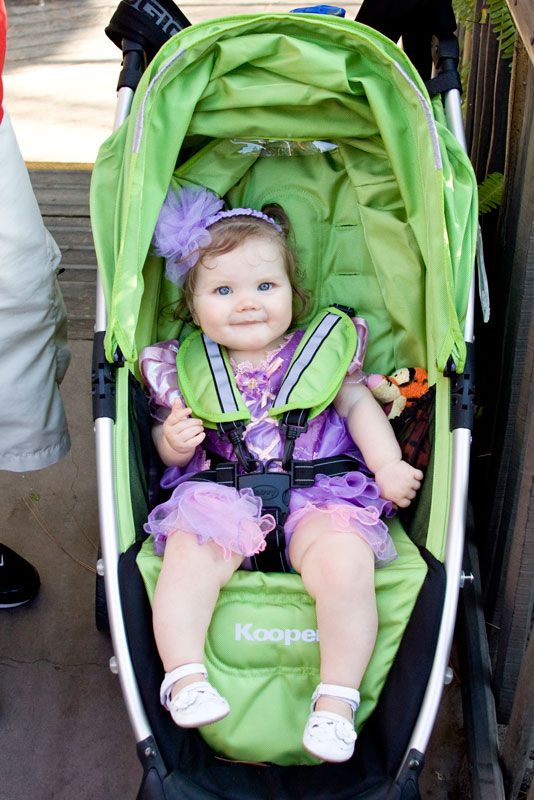 PRO: GIANT CANOPY.
And one of my FAVORITE features, the GIANT canopy. This hood is massive and really nice. It totally shades our fair-skinned babe AND also helped keep out some of the noise and goings-on when she was trying to sleep. Joovy is known for their giant canopies. I really like them a lot!!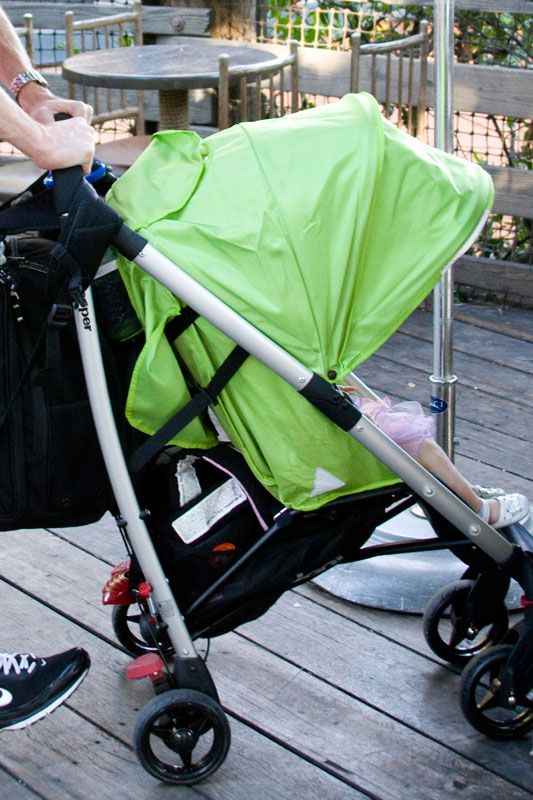 Now for some things about the Kooper we didn't love as much.
CON: BASKET BLUNDER.
First up, and probably Josh's #1 complaint, was the basket at the bottom. It's an ok size, but the little tab that snaps it in place on the right side would NOT stay snapped. I don't know if we got a faulty one or what, but every time we looked down it was unsnapped and our basket was about to fall off and dump all our stuff on the ground. It was very frustrating. Josh just informed me that it was actually both snaps that would come off. I only noticed the right side myself. A large safety pin would have solved the problem, but should't your basket just stay on?! And its not like we had super heavy stuff down there that was pulling it off. It was just our camera, a baby blanket, and a baby sling. I'll definitely be contacting Joovy about our basket!
Also, its a little inconvenient that you can't access the basket underneath at all if the stroller seat is reclined. So if Scarlett was a asleep and I needed to get into the basket, too bad!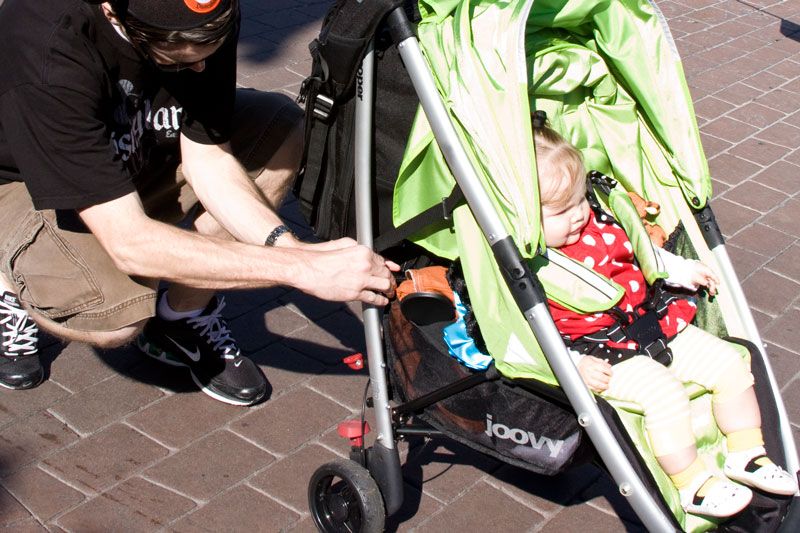 *UPDATE* I talked to Joovy and they quickly sent me a replacement basket. Again - Joovy's customer service is SUPERB. They want happy customers!! They said I must have gotten faulty snaps, so this one is supposed to work. I've used it running errands and it hasn't fallen off yet, but we'll see if it stays on our next trip.
MINI-CON: DOESN'T FULL RECLINE.
Speaking of reclining the seat, I was a little bummed that the seat doesn't fully recline. It's nearly flat, but not quite (I looked it up and it goes back to 149 degrees). Luckily, Scarlett didn't seem to mind much and slept pretty good in it. But I do wonder if she would have napped better and longer had she been able to lie all the way back. My sister-in-law, who was with us on the Disneyland trip, said her baby would NOT have been able to sleep in a stroller that doesn't lay flat. (MINI-PRO: UNLIMITED RECLINE POSITIONS. I do love how the strap mechanism lets me set the recline at any position you want.) One other thing - when reclining or sitting up the seat, the back flap with the zip pouch and water bottle holders always got caught up and tangled with the top of the seat. I had to always remember to watch out for that. I'm sure I'll get used to it, but it was something I had to be conscious of with each seat adjustment.
MINI-CON: FOLDING.
We had read that some people didn't like how the Kooper folds up. But I didn't really have a problem with it. I do wish it had an automatic lock when you folded it, but the little tab that you use to hook it closed is really easy and seems like its good quality and will last. It folds easily and to a pretty flat/small size. The wheels stick out pretty far, and make it a tight squeeze to fit in my trunk long ways, but you can pop the wheels off and that makes it much smaller. Granted, it's not realistic to pop the wheels off every time you need to fold up the stroller though, so that's something to keep in mind.
MINI-CON: HEIGHT.
I'm 5'10" and Josh is 6'1" so we were a little worried about having a stroller that is tall enough for us. Especially since we ordered it online and hadn't actually pushed the thing around ourselves. But the Kooper is actually pretty tall. Do we wish it had an extra few inches? Sure. But its not terribly uncomfortable. But if you or your hubby is taller than 6'1", the Kooper will definitely be a (literal) pain! When you're pushing it, the room for your stride is limited by the height of the handles. We were wishing it was either a little taller or the handles came out toward you a little more just for a little bit more ease in walking. But all in all - the heigh is only slightly disappointing, mostly ok.
CON: BRAKE CABLES.
There are brake cables near the bottom of the stroller and they are SUPER ANNOYING. I was constantly stepping on them, tripping, and yanking them out with my foot on accident. I don't know if I'm supposed to position them differently or what, but they were definitely always annoying us as we walked. I'll definitely be getting some zip-ties and trying to tie them up in a way that won't let them be in my way!
*UPDATE* Upon further inspection, it looks like our stroller came with a missing zip tie on the left side, or a broken one that fell off. Not sure. The cables seem to normally be pre-zip tied up out of the way. But ours wasn't. I'm going to contact Joovy today about getting another matching zip tie. I'm assuming normally this wouldn't be such a problem when all the break cables are tied up as they should be. I'm positive Joovy customer service will rectify this issue promptly.
CON: BRAKES!
I've never used a stroller with such difficult to use brakes. They aren't your typical flip down, flip up brakes. They are big pedals you have to push really hard to lock and yank really hard to unlock. And you can't really tell if the brakes are on or off. The wheels seem to rock a tiny bit even with the brakes on, so I was always a little confused if they were on (there's no locking or clicking sound to help you know if they are on or what). AND if you're a flip flop mom like I am, you won't be able to use these brakes with your feet. Josh and I finally gave up and did the brakes with our hands. It's possible we'll get used to these difficult brakes, but I don't know!!
All in all, the Kooper is a high-quality, excellent stroller. Like I said, I can tell its going to last a long time! There are just some things about it that Josh and I, being the picky parents we are, weren't thrilled about. When you're at Disney, in a hurry, running here and there, the little things like brakes, baskets, etc. seem to add up. So, while I wouldn't say this is the dream Disney or travel stroller, I would say its a GREAT stroller for every day use. I'm REALLY looking forward to using it for walks around the block, to the park, the mall, etc!
Since returning from our trip, and speaking with Joovy about our "cons" list, they said to tell my blog readers that Joovy's newest stroller "
The Groove
" could quite possibly resolve many of the issues we had with the Kooper. You can read all of the features of the Groove
here
. So keep that in mind!
And guess what!!!
I have a Joovy stroller for one lucky winner!!
The winner gets to choose between the Groove or the Kooper in the color of your choice. (I love Joovy's bright color options!)
Want a gorgeous Groove or Kooper of your own? Here's how to enter:
Post a comment on this blog post telling me the first place you'd stroll with your new Joovy Kooper.
Shipping is complimentary in the lower 48 states. Outside winners pay additional shipping costs. One entry per household please. All entries must be in by midnight (Mountain Standard Time) Sunday night (Dec. 4).
I'll announce the lucky winner on Monday morning. GOOD LUCK!
WINNER ANNOUNCED! Congratulations to Sarah Bennett!!! She was our lucky randomly selected winner of a brand new Joovy stroller. YAY!