Our trip to Disneyland started out with two days in the park with just US. We learned on our last trip that we needed at least 2 days to be together as a little family before we joined in with the rest of my family. Having that time with just us brings us so much closer together. We can really focus on each other and our baby girl.

So - on Day 1, we were just brimming with excitement as we walked toward the park.


We entered Disneyland and took the customary family photo by the Mickey flowers. It turned out pretty cute this time, I must say. We had a really nice Cast Member, named Byron, take it for us. He was so funny and knew EXACTLY where to have us stand for a good picture without the sun glaring in the baby's eyes. Thanks Byron!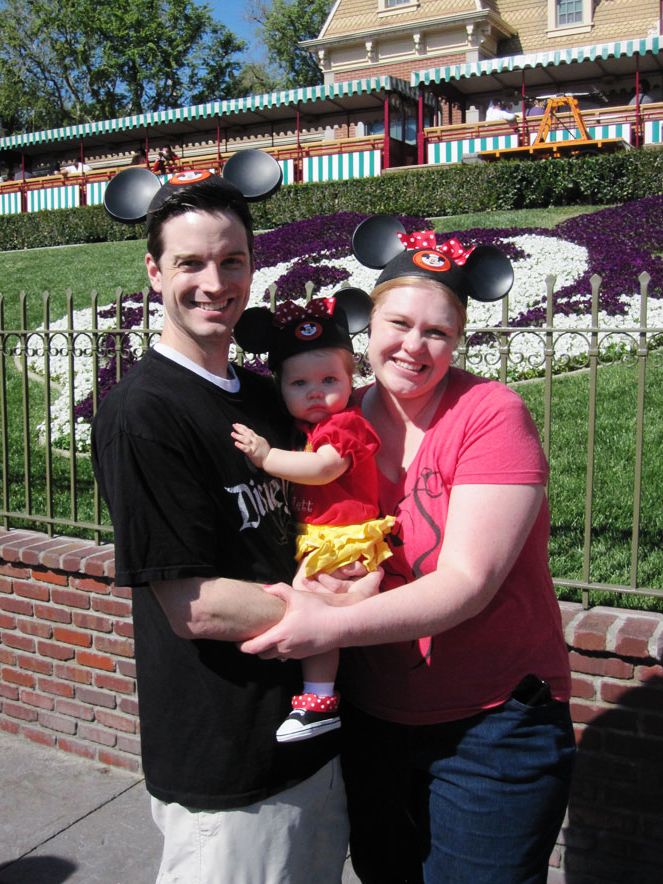 As we were about to go under the tunnels and onto Main Street, Josh noticed how cute our shadows looked! He stopped to take a picture and I'm so glad he did because its one of my favorites of the whole trip.
I LOVE it when Mickey and Minnie are right there greeting guests when we first walk in. It's the PERFECT start to a day at Disneyland. And the Disneyland Band was playing so we had wonderful music to listen to as we waited in line. As soon as Scarlett saw Minnie and Mickey she started to kick her feet and squeal and clap. She LOVED the music the band was playing and danced along (she started doing her little "dance" thing 2 days before we left for Disneyland and it made the trip so much more fun!!! YAY!). She was in HEAVEN. Seeing her so happy made Josh and I more happy than I can explain.
We met Minnie first. Scarlett couldn't take her eyes off her and kept reaching for her. Until we got up close and personal. Then she got shy. But she still wanted to see her. She was just nervous.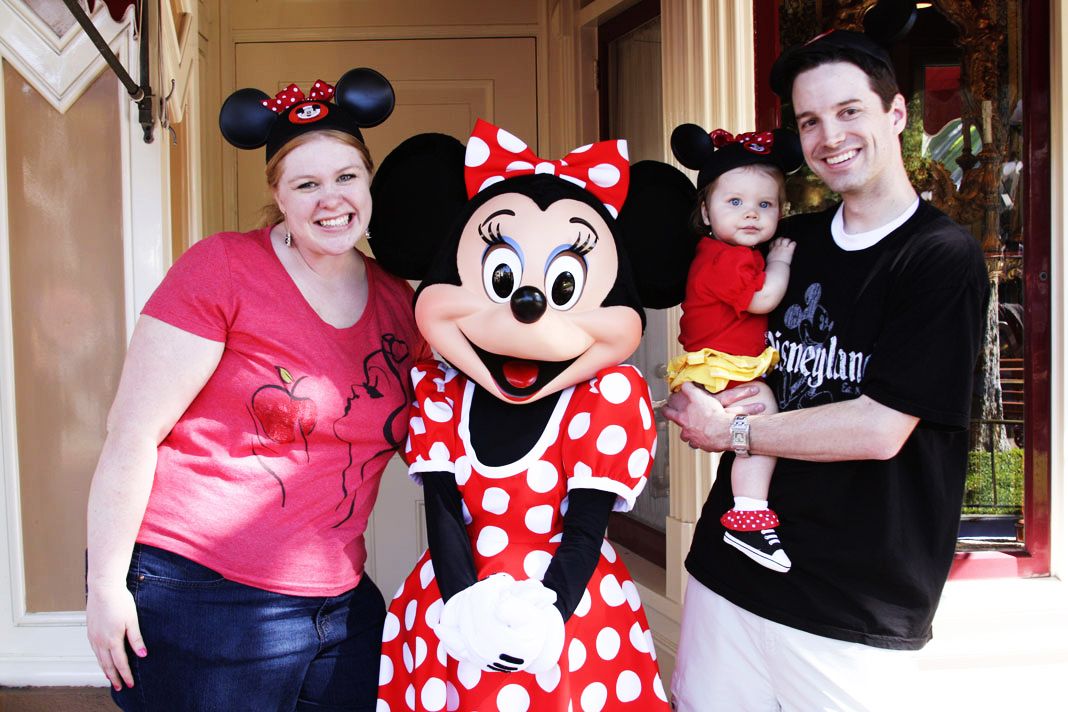 But she did much better with characters in general on this trip. Especially with Mickey. She wanted to see him so bad. She would not stop looking at him as we waited in line. But, as expected, she got very shy and clingy when it was finally our turn. But she didn't cry or freak out at all! Progress.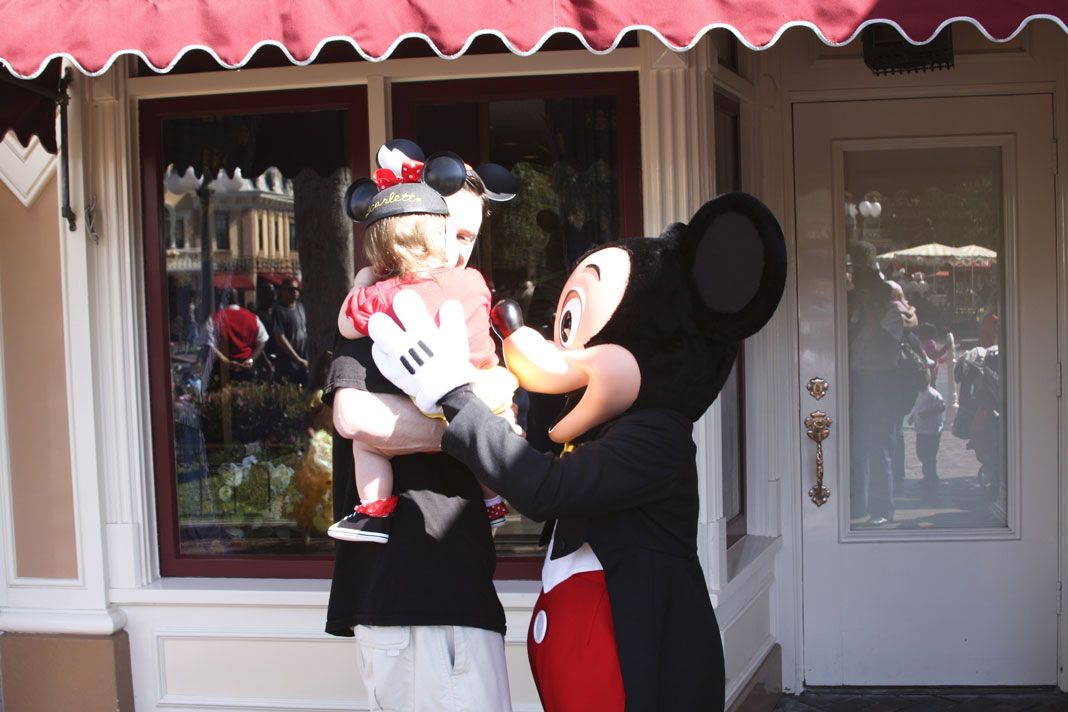 After Mickey and Minnie, we knew EXACTLY where we wanted to head. SMALL WORLD!! Scarlett didn't get to ride Small World on our last trip because it was closed. We knew she was going to love it and we couldn't wait!
And of course, she LOVED EVERY SECOND OF IT!
I think we ended up riding this three (maybe four?) times during our whole trip. It's like baby heaven in there!!
After that, Scarlett needed a nap, so as she napped in her stroller, Josh and I took a walk. What a happy place to stroll.
We had an early dinner/late lunch at the new "Jolly Holiday Bakery". I had the grilled cheese sandwich and tomato basil soup. And Josh had the pot roast sandwich. Both were very good, but maybe a little on the small side. I definitely look forward to trying that place again. It's a fun location. Great outdoor seating to people watch!
We met up with Josh's Aunt Cris and caught the afternoon parade from our table at the restaurant. Even though we were at a distance, Scarlett was loving it!
She was bouncing and staring at all the characters. It was adorable.
After Scarlett's first ride on Pirates of the Caribbean (also closed on our last trip) and a ride on Winnie the Pooh, it was time to bundle up!! MAN ALIVE did it get chilly after the sun went down. Luckily, I was prepared!! I'm proud to say I kept that baby TOASTY WARM.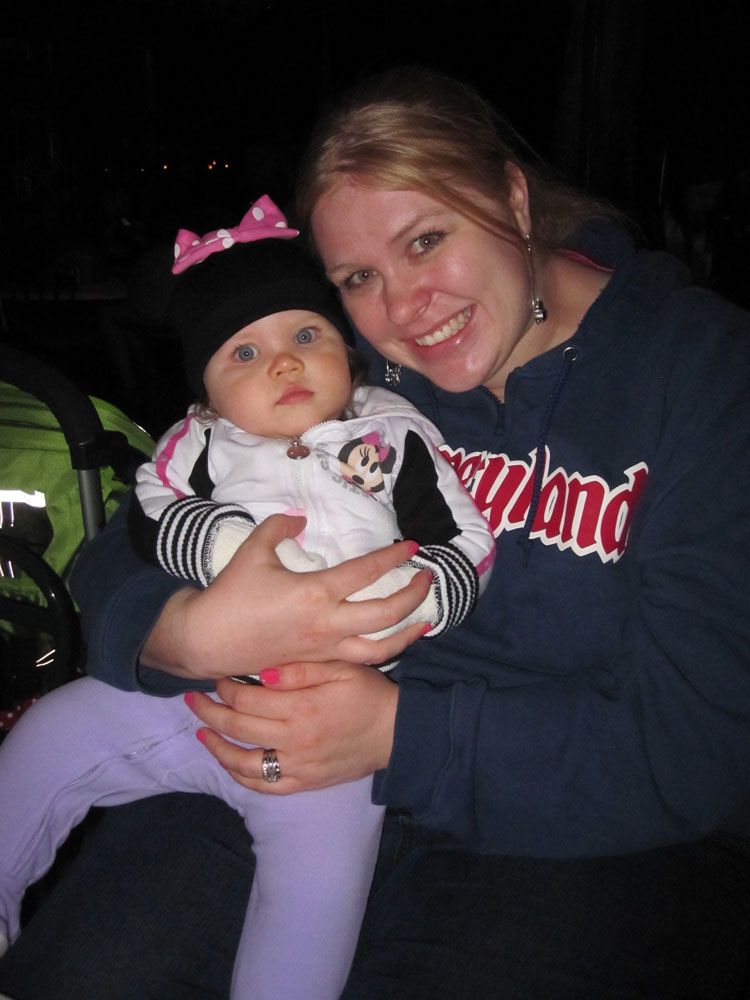 And this was the warmest night. Wait 'til you see how bundled she gets on the even colder nights!
We said goodbye to Aunt Cris and soon after that Scarlett went to sleep in her stroller. We stayed for the fireworks which, surprisingly, Scarlett slept through (if you know Scarlett you know she's a notoriously light sleeper). I guess she was just tired out!!
Day 1 was magical, but it sure did fly by. I'll work on getting a Day 2 re-cap post put together soon!