WINNER HAS BEEN ANNOUNCED. Comments are closed. See previous post for Winner. Thanks for your interest in this giveaway!

Hi readers! I have an exciting giveaway for you today. Kim at Something Strappy, a fellow Disney-nut and scrapbooker, contacted me a while back and let me know about her ADORABLE Disney camera straps. I fell in love immediately. So, today on Disneyland's Birthday - HAPPY 57th to my FAVORITE PLACE IN THE WORLD!!!!!- we're offering you the chance to win your very own Something Strappy custom camera strap.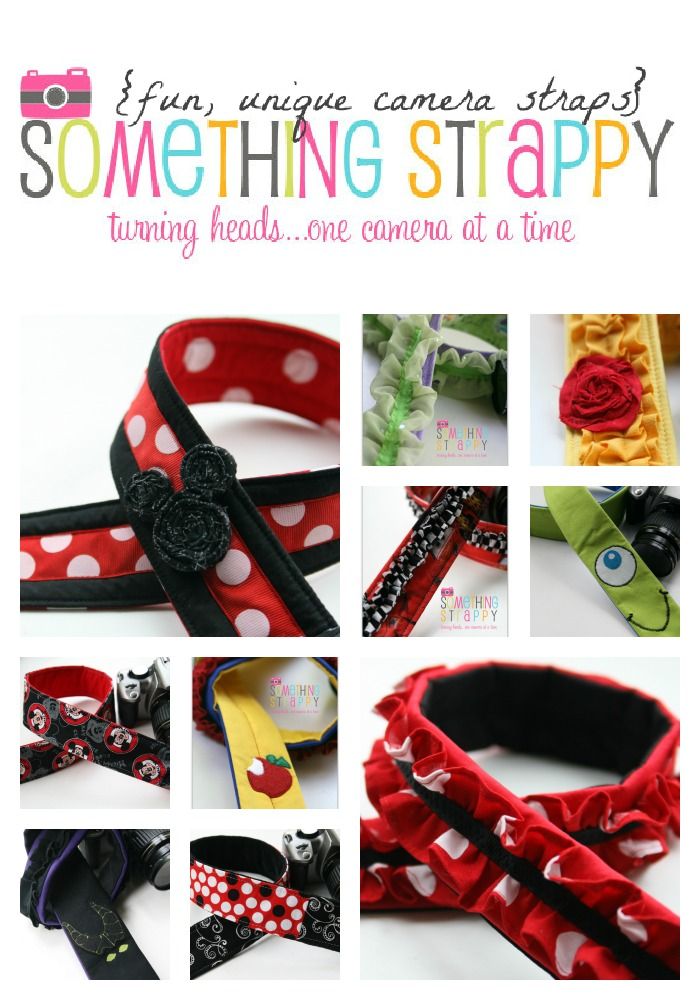 And her non-Disney straps are just beautiful! PERFECT fabrics, colors, and style! So awesome.
Kim even designed several Disney themed straps especially for this feature and giveaway!! You have to go check them out. I know you're going to want one (or two, or three!).
I LOVE that her straps are not just strap covers, but whole new straps. Check out my adorable
Minnie Mouse Ruffle strap
in action!

(excuse the iPhone pics, my actual camera was on ME! haha!)
Since I've used the strap personally, I can tell you guys they are awesome. Mine is soft minky fleece on the bottom, but it doesn't make my neck hot. They are totally sturdy and I feel completely comfortable hanging my camera on it.
I can't WAIT to take this little cutie to Disneyland. And Kim is just a sweetheart. She noticed that I liked cross-body straps, so she let me know that I could send her a mesaurement and get my strap cross-body style. It fit PERFECTLY because it was custom made for me!!
She has an
add-on section
of her shop where you can add extra length, an adorable flower, or a camera lens pocket. <-- Genius!!
Don't have a DSLR?! Don't even worry!! She makes adorable
wrist straps
for point & shoot cameras too.
I decided we should all get to know the owner of Something Strappy, Kim, a little bit better, so I conducted a little interview.
How long have you been sewing?
I have been sewing since I was a little girl. My grandmother lived with us, and both she and my mother sewed - my mom made me TERRIFIC Halloween costumes. I was always making things with scrap fabric, and then later took lessons at our local sewing shop when I was about 11. I remember the teacher had the worst coffee breath! I have made lots of different things, but camera straps for Something Strappy is my first business endeavor. I think both my mother and my grandmother would be impressed.
What design camera strap do you use on your personal camera?
You would think that since I own Something Strappy, I would always be changing my camera strap - but I really don't very often. Right now my camera is stylin' in my
"Fly Away"
strap. I love this one because I love gray as a classic base color - but I do have to have color. The colors on this strap just pop off the fabric. It's fun and bright, and it looks great with anything. Really, when you are a camera-toting mom like me, it's nice to have a strap that looks great, speaks of your personality, and is comfortable to wear. That's what I try to create for my own clients. I also want to make them affordable. A camera strap is a fun accessory, but like many others, people want to change them occasionally. I try to keep my prices so that people feel as if they can afford to come back and buy another strap for a different season, event, or when they just want a change.
What Disney park do you frequent most and how often do you go?
Our family has been to Disney World's Magic Kingdom most often. We have been going every other year for a while now. We love staying on site, and have a great time enjoying the spirit of Disney. I can't think of any other place that is more enjoyable to travel to when you have kids than Orlando. There is just so much to do! We just went again last spring, and I was at Magic Kingdom for it's early morning opening. I was walking, holding hands with my son, and he took in a deep breath and said, "I love the smell of Disney!" I had to laugh that we had been there enough that this child could identify even the smell.
What's your favorite Disney park attraction (ride, show, etc)?
Personally, I love Big Thunder Mountain. I have a great picture of my daughter on the ride from when she was 9. I was in the car with her and turned to take her picture with my little point-and-shoot. It's not an award-winning photo by any means, as we were being jerked all over the place. But her head is back, hair blowing in the wind, and she is just laughing a great big laugh! Every time I look at that picture, I am reminded about how much fun it is to be a kid again. My other "must do" is the Monsters, Inc. Laugh Floor. I can go to that show multiple times on a trip, and always get a good laugh. It's a great "sit down & cool off" opportunity, and the show really is so clever & funny.
What's your favorite Disney movie?
I have to admit it - I am a Pixar girl. Monsters, Inc. is my favorite, but Cars and Nemo are up there too. The AristoCats is my favorite childhood Disney movie.
What else do we need to know about Something Strappy?
When I made my own camera strap because I was just tired of my black one, I never thought I would be able to make a business like Something Strappy out of it. But - I have! And I love it. I don't want to be the type of business that simply mass produces straps; I want each of my straps to be special. I like to purchase small amount of fabrics so that I am always changing what is in stock, and I really love it when I have the time to get extra creative. Adding ruffles, flowers, buttons, and other embellishments is very enjoyable for me. For me, making the straps is kind of like scrapbooking (which I have been doing for 13 years now) - a great background may be all you need, but layering in just the right way can really give your project some pop. Some of the most fun I have had is creating Disney-themed straps in preparation for this giveaway. Originally I was just offering a Mickey and a Minnie strap. But it was actually Brittney's digi-kits that got me thinking (okay, my daughter would say obsessing) about
Disney-inspired straps
. I didn't want to go out and buy Disney fabric and make a strap; I wanted the strap to be more creative than that. So I have been having lots of fun working on straps that represent various Disney characters. I think one of my favorites is my
Maleficent strap
- just because she is such a terrific Disney villain. But I also love the
simple patchwork strap
of various black, red and white patterned fabrics. For me, it is more than just sewing a camera strap, it is creating something that puts a smile on the face of any client when she grabs Something Strappy to head out the door.
Thank you so much Kim, for letting us get to know you and your business a little better.
I LOVE spotlighting small mommy-owned businesses like this. Because that's what I am too!
Ok - to the part you've been waiting for - the giveway!! . . .

How to enter:
* Comment here on the blog with the name of the camera strap from
Something Strappy
that you'd love win.
* 1 entry per person
* Open to all US Residents.
(outside of US - you can enter if you'll agree to pay the added shipping cost)
* Entries due by midnight (Mountain Time) on Thursday night, July 20. Winner will be announced on Friday morning.
*** Winner receives 1 camera strap of their choice from Something Strappy. ***
Make sure you visit
Something Strappy on Facebook
. She's doing a Britt-ish Designs giveaway there too. Simultaneous Giveways!!
WINNER HAS BEEN ANNOUNCED. Comments are closed. See previous post for Winner. Thanks for your interest in this giveaway!