Yippeeee! Yippeeee! It's time for DSD!

Yes, its that time of year once again. Time to celebrate Digital Scrapbooking Day. And this year, Britt-ish Designs has got all kinds of fun stuff in the works!

And it all starts NOW!! (I decided to start a little early because I just couldn't wait.)

Ok - here's the low down . . .



Everything in the shop is 30% off (excluding bundles & gift certificates).
Orders over $20 receive a FREE KIT!!! (alpha, papers, elements AND a bonus template all your for free!!!)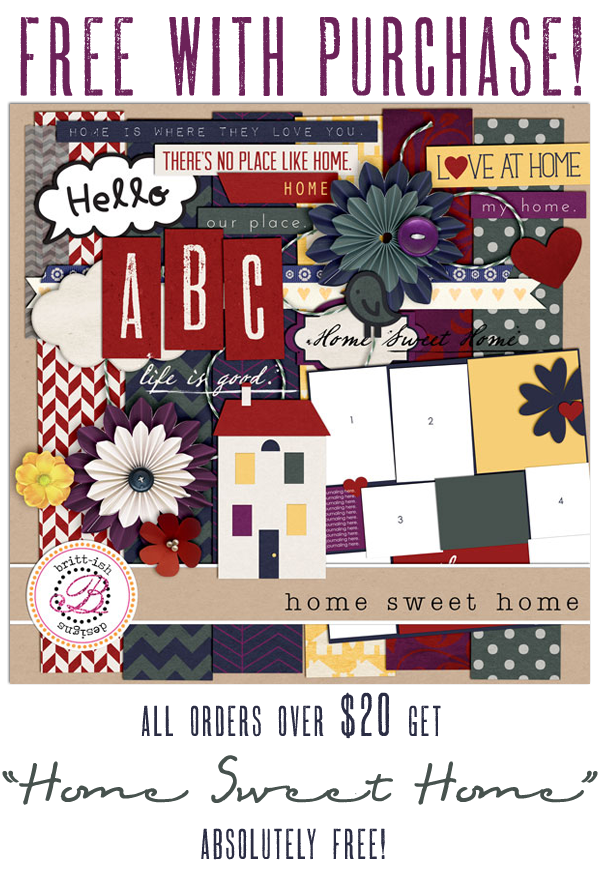 When you spend $20 (total after discount) I will email you a special DSD KIT!! "Home Sweet Home". Just place an order over $20 and you'll receive an email from Britt within 24 hours containing your "Home Sweet Home" download link!!
Friday night I'll be hosting a Speed Scrap (yes, your Speed Scrap layout can count toward randomly chosen Gallery giveaways). Speed Scrap starts at 7:00pm MST (6pm PST / 8pm CST / 9pm EST). We'll be chatting in the
MouseScrappers.com chat room
. You'll have only 1 hour after the final instruction has been given - a TRUE Speed Scrap!!! Layouts will be due at 9:00pm MST (8pm PST / 10pm CST / 11pm EST).
Post layouts you created THIS WEEKEND (starting today - ending Monday Nov. 5 at midnight) in my gallery. The only requirement is to use something by Britt-ish Designs. But you can mix it with other designers stuff to. I'll be trolling the gallery and giving away prizes to
random
posters.
LAYOUTS NEED TO BE SCRAPPED THIS WEEKEND! No posting older stuff for this giveaway.
Giveaways will end Monday Nov. 5 at midnight, so post your layouts before that. I'll be announcing winners throughout the DSD event weekend and possibly 1 or 2 more on Tuesday morning. (I'll announce Gallery Winners via Facebook - so make sure you're following me on
Facebook
).
Prizes include:
$10 Britt-ish Designs GCs
$15 Britt-ish Designs GCs
$25 Britt-ish Designs GCs
See!! I told you lots of fun stuff was going on. So - let's celebrate our LOVE of Digital Scrapbooking! Have a fun weekend and happy scrapping (and shopping!). xoxo