I'm so exited to start the November Flashback!! We're flashing all the way back to Thanksgiving of 2008 when I released this the mini-kit "Thanks Indeed". Through the rest of Nobember you can buy "Thanks Indeed" for just $1!!
Check out this adorable page by Fonnetta:
Now, let's talk about this month's Flashback Challenge!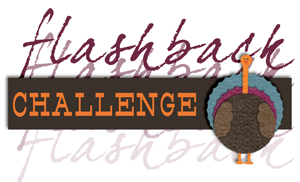 How to enter:
Create a layout using "Thanks Indeed" before November 30th and post it in the
Britt-ish Designs Challenge Gallery
. Then come back to this post and paste a link to your layout in the comments. At the end of the month I'll do a random drawing for 1 winner of a $15 Gift Certificate to my shop. No matter when you purchased "Thanks Indeed" - today, last week or years ago - just use it to create a NEW layout and enter it to win!!
If you've never entered one of our Flashback Challenges, please read the "important note" at the end of
June's challenge
regarding how to post and enter the challenge correctly.
One more note. I know some people have had trouble in the past with the gallery. But all problems were solved by simply trying another browser. My gallery and Internet Explorer don't get along. So, if you're having trouble seeing where to Register, Log In, Upload, or Comment - just try using a different browser (like Firefox, for example) and you shouldn't have any trouble.
Here's a freebie word card for you that will look great on a "Thanks Indeed" layout. You can download this card
HERE
!