Hi everyone!! I'm so excited that National Scrapbooking Day is here once again. It's funny that we are still calling is National Scrapbooking DAY when really the industry celebrates all weekend, not to mention we celebrate INTERnationally. It should be International Scrapbooking Weekend. ISW instead of NSD . . . but I digress.

NSD is here and we're whooping it up here at Britt-ish Designs. First off - everything in the shop is 40, yes 40% off (excluding GCs and pre-discounted bundles).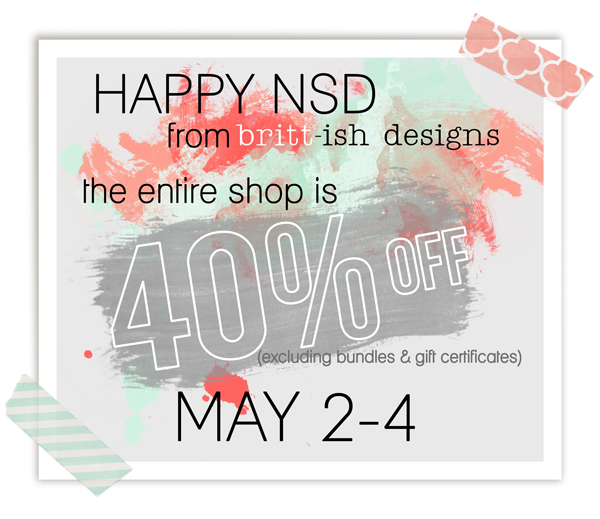 This is definitely the deepest discount of the year, so now is the time to check those kits off your wish list and get to shoppin'!
Also, EVERY customer who places an order in my shop from now through Sunday night at midnight will be entered in a drawing to win a very fun prize!
WASHI TAPE!!!!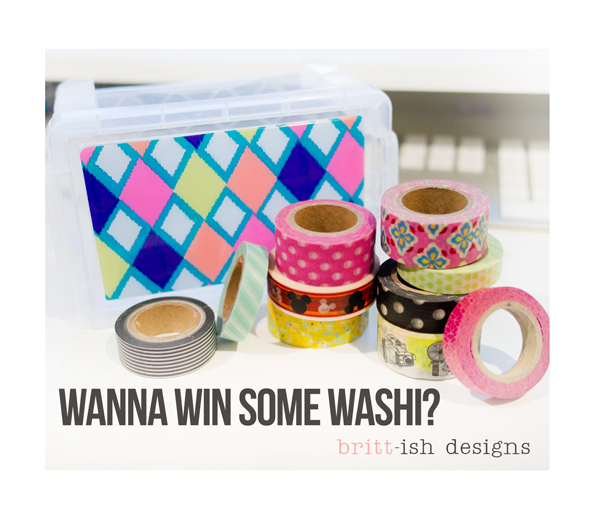 Washi tape is one of my FAVORITE little go-to embellishments, both digitally and in real life. I'm not really a paper crafter so much these days, but I still LOVE to use washi tape. I use it to tags onto presents, seal envelopes, hang notes in my house. When I returned people's casserole dishes to them after they brought us dinner when Giovanna was born, I used it to tape the thank you notes to the dish. Anything you'd normally use scotch tape for is SO much cuter when you use washi instead.
So, wanna win a big old stash of washi tape?? Just make a purchase in my shop this weekend and you're entered to win!!
The fine print:

- Each customer who makes a purchase from May 2 through May 4, 2014 is entered into the drawing only once, regardless of how many transactions they make this weekend.
- Contest is open to US Residents for free shipping of the prize. International customers may also win, in which case the additional shipping cost will be paid by the customer in exchange for a Britt-ish Designs Gift Card of equal amount.
- Winner will be announced Monday May 5, 2014.
The winner will receive the 10 rolls of adorable washi tape in the picture above (which were hand selected by yours truly) including one VERY cute roll of Mickey tape, as well as the colorful little plastic tote to keep all your new tape in. And as an added bonus, the winner is also getting a $20 gift certificate to Britt-ish Designs.
So,
make a purchase
this weekend and who knows!! You might win some washi!!
Ok, let's see. What else is going on for NSD?
There's a Facebook Fan Freebie up on
my Facebook page
that will disappear on Monday, so snag it during NSD weekend.
AND I'll be back later this morning to post a couple of fun games where you can win gift certificates to my shop. So make sure you check back later.
NSD has begun, people! Woo hoo!