Avast me hearties! I'm popping in today to tell you about the featured product for October.


"Ahoy Mateys"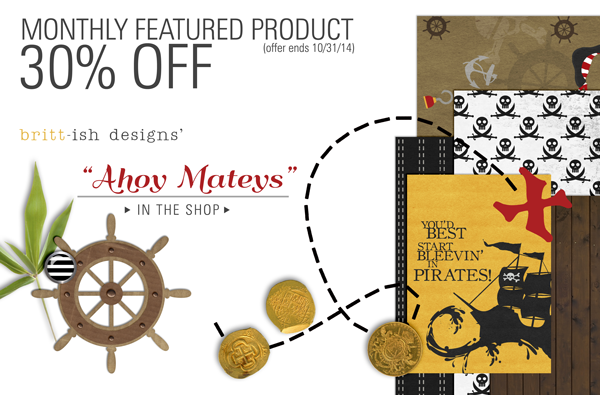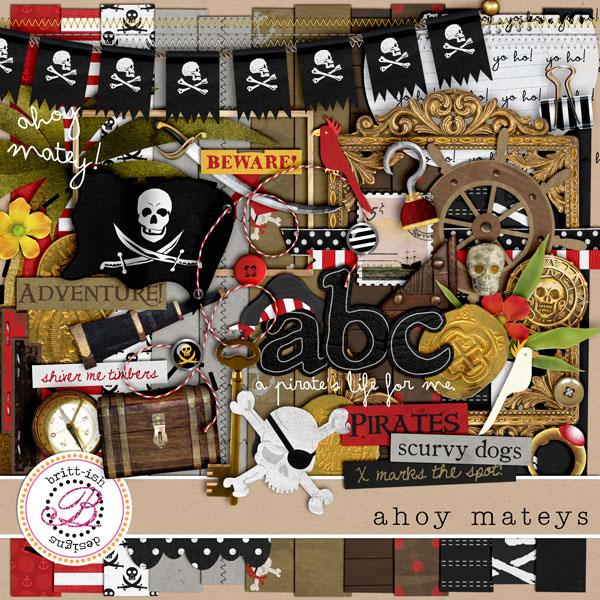 "Hot Mess: Pirate Style"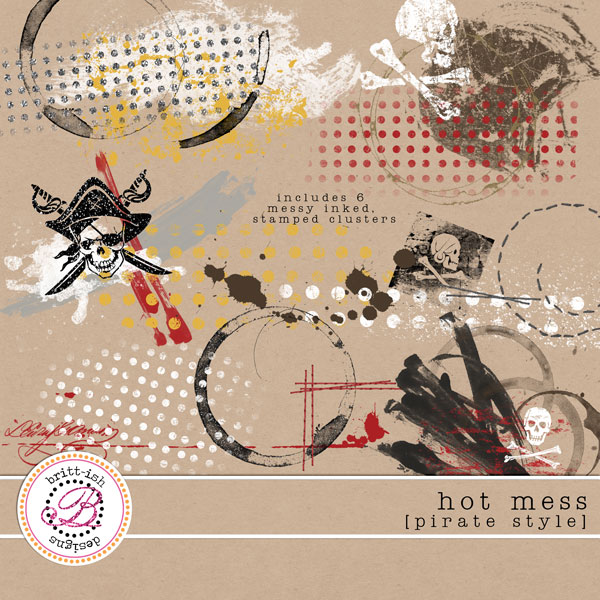 Each month I go through the shop and feature one of my favorite products from the past. This month, we're featuring
"Ahoy Mateys"
and the coordinating
"Hot Mess: Pirate Style"
. All month long these piratey products will be 30% off!! And . . . if you post a layout in my gallery using anything from Ahoy Mateys or Hot Mess: Pirate Style (regardless of when you purchased it), and you might find yourself featured on my blog and perhaps get a little extra sumthin-sumthin as a bonus. To make sure I see your Featured Product layout, post it in
my gallery
and leave a comment here with a link to your page. (Not very many people shared their featured product layouts with me in September, so the odds of winning a prize were really good!! Make sure you enter and you just might WIN!!)
I probably say this about all my featured products (probably because I always pick my favorite kits!) but I LOVE "Ahoy Mateys". It's one of those kits that just came together effortlessly. It's big, its PACKED full of awesome elements. I just love it.
I decided to create brand new a Card Collection pack to go with it, since I'm mostly a pocket scrapper these days! I always need MORE CARDS! MUST. HAVE. MORE. CARDS. The new cards are 30% off all month long too!!
"Card Collection: Ahoy Mateys"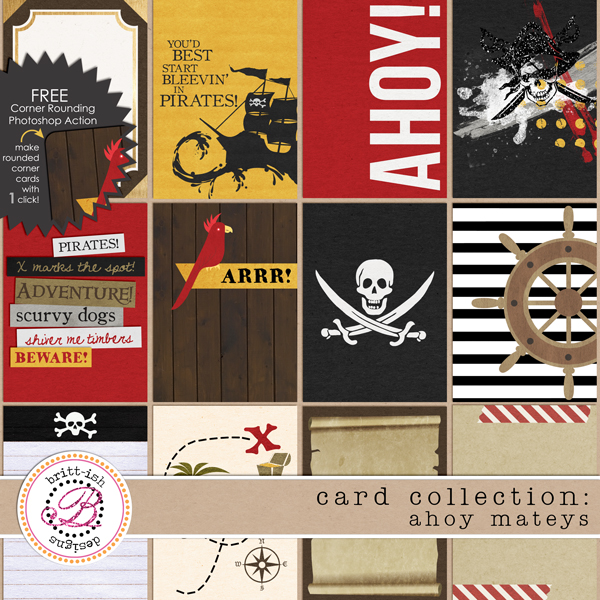 My team has created some amazing new layouts using Ahoy Mateys!! Let me show you . . .
by Julie
I just LOVE Britt's Ahoy Mateys kit, for my one of my favorite rides in Disney! I couldn't wait to use Britt's new journal cards add-on, they are SO fun, and just made my page come to life!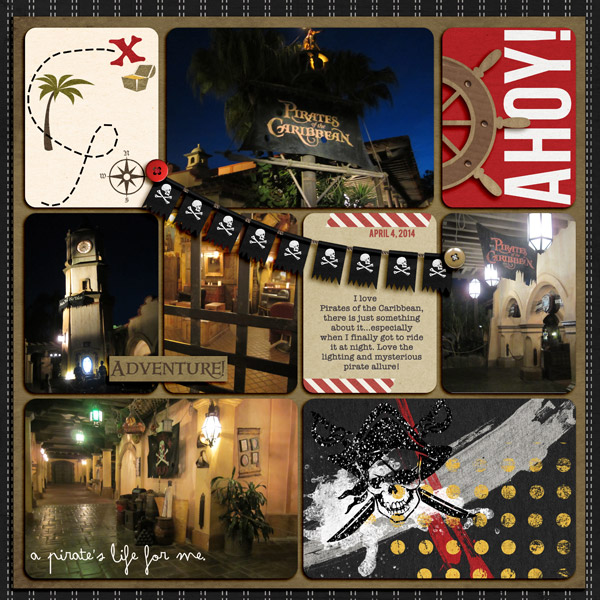 by Jan
This is such a fun kit to work with. There's just the right amount of whimsy mixed in with classic "piratey" things, along with great colors and those wonderful elements.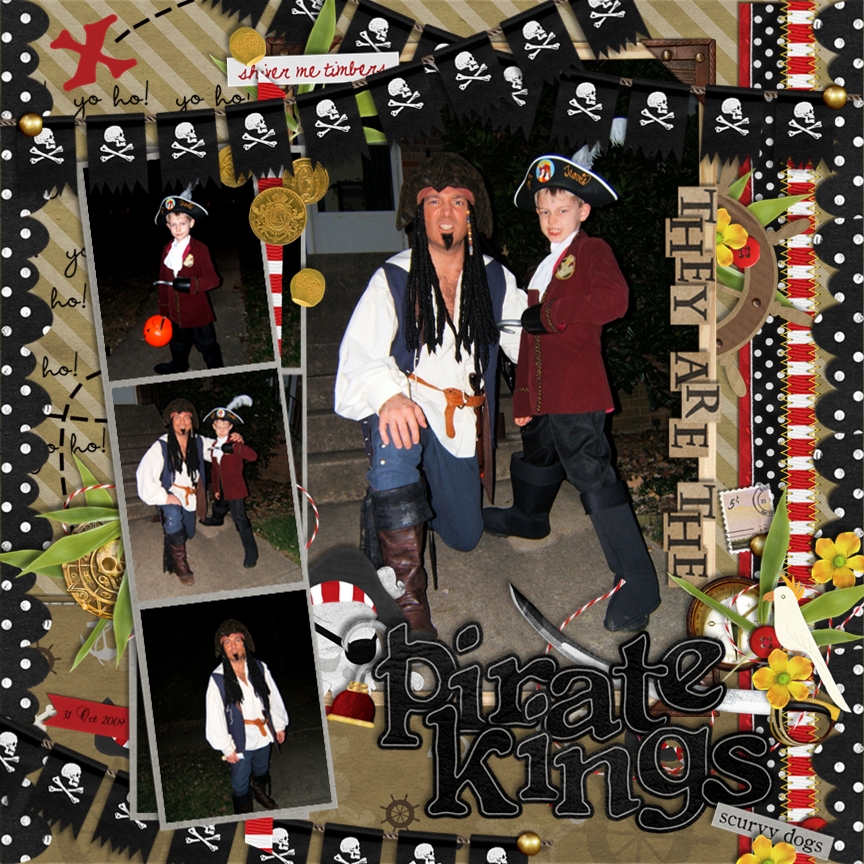 by Natasha
This kit is such a classic pirate kit! So many pops of colour along with a vintage feel.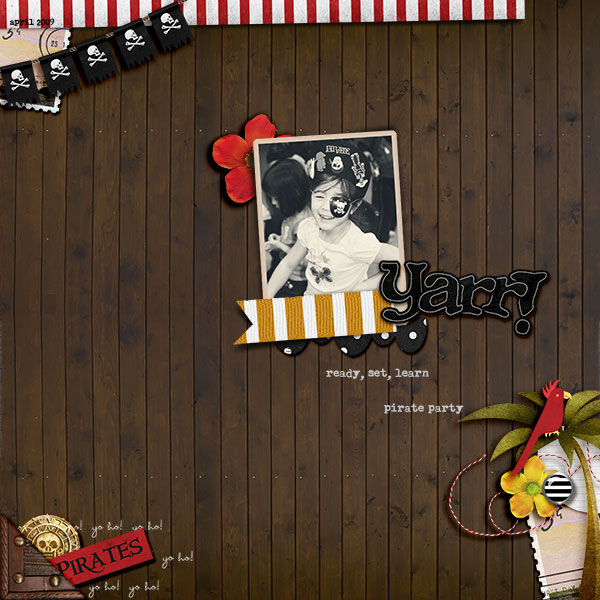 by Melinda
This fun kit is perfect for all things pirate! I really like all the unique elements from the word strips to the coins and everything in between. I especially liked the two parrots.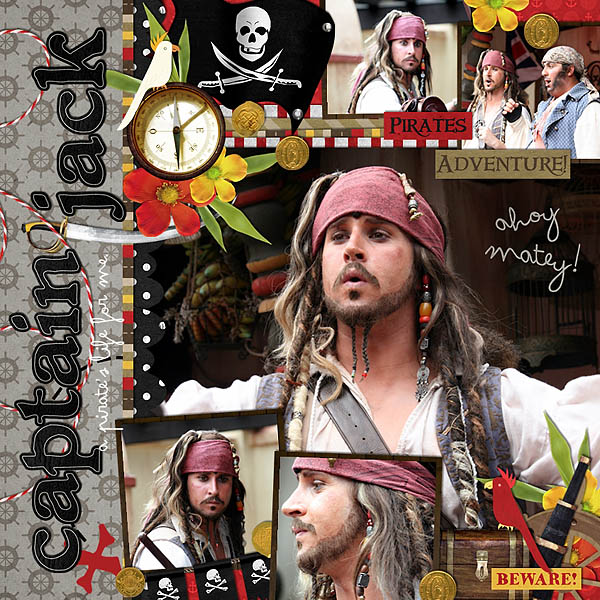 by Justine
The pops of gold and those colours and elements make this is such a classic pirate kit. That skull and cross bones banner is also very cool and the alpha is totally versatile.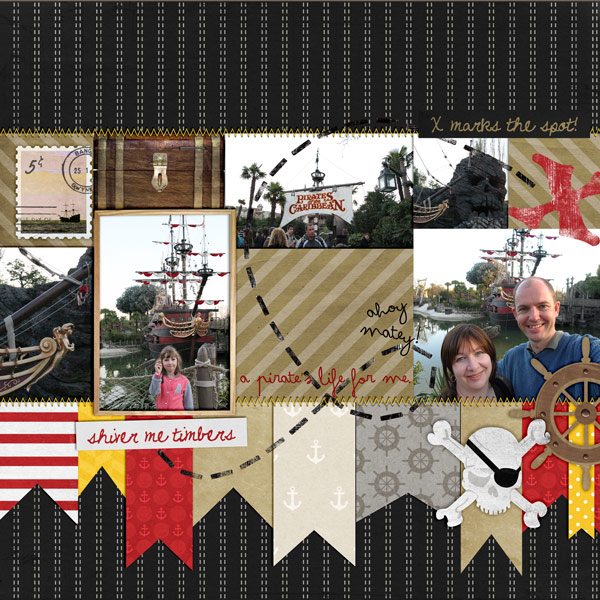 by Fonnetta
If a Pirate kit is what you are looking for you won't be disappointed! This kit is so versatile you can use it not only for cool pirate stuff but also for Halloween, parties, character encounters or even your heritage!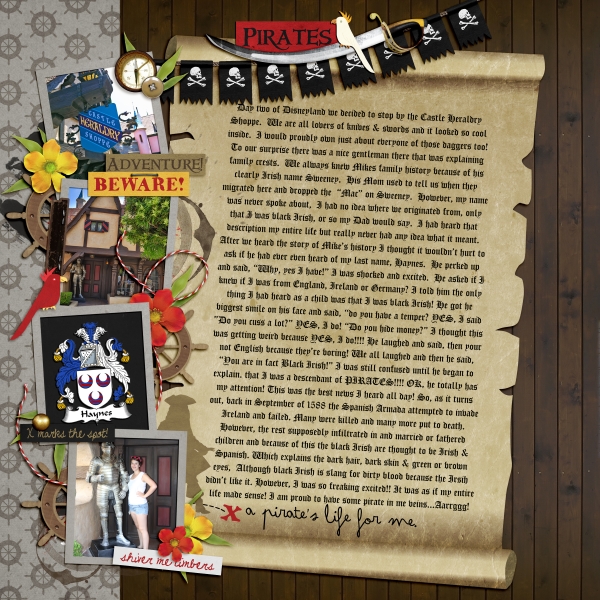 by Erica
I couldn't believe how many elements there are in this kit. I wanted to use everything, but just didn't have enough room!! Can't wait to do another page.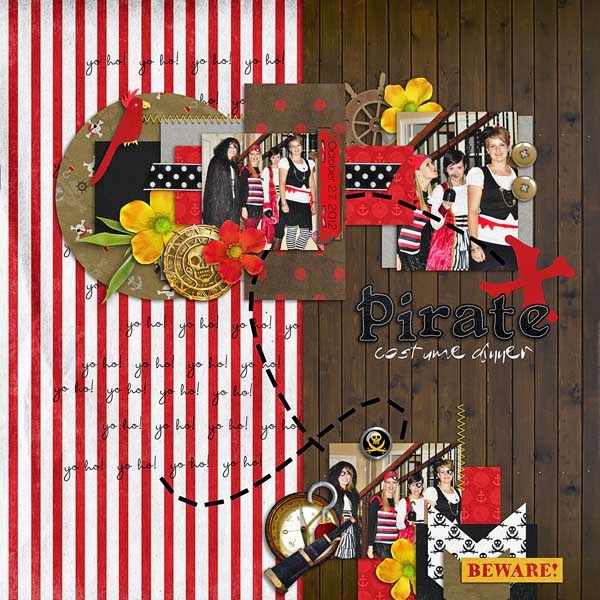 Oh and here's a page scrapped by ME!! This was my original page I scrapped back when this kit first came out and I still TOTALLY love it!! (you can click to see it larger)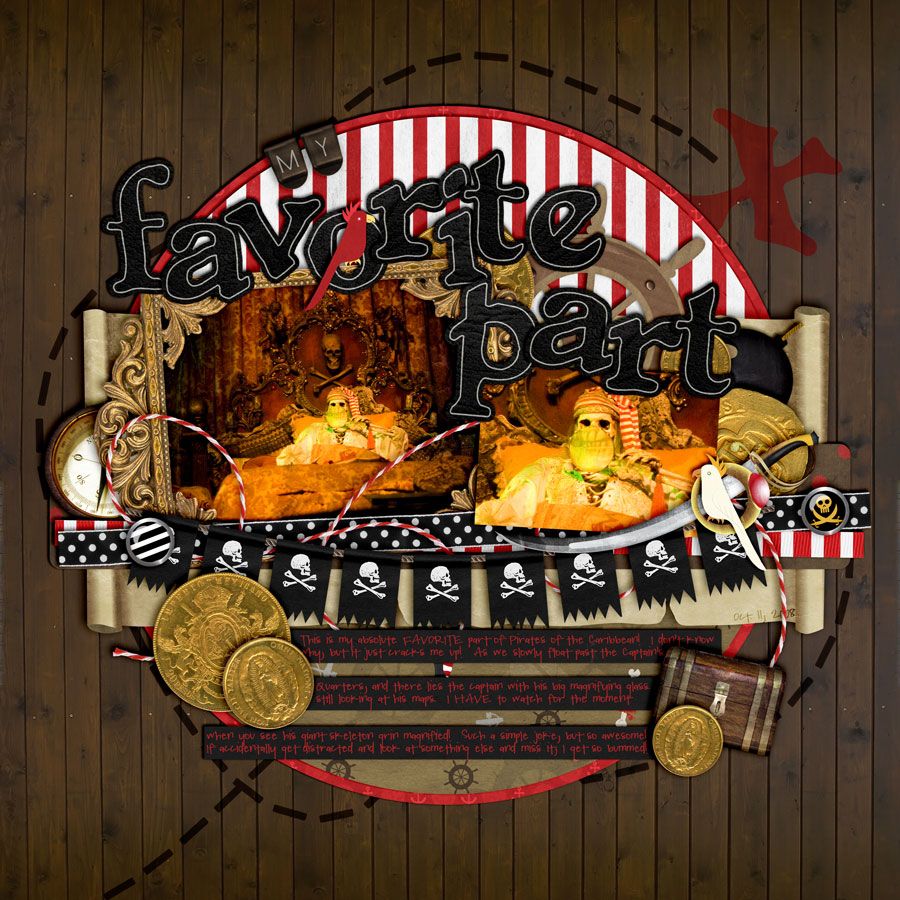 And we can't forget the original add-on freebie I released back when this kit first came out!! It's still FREE, so enjoy!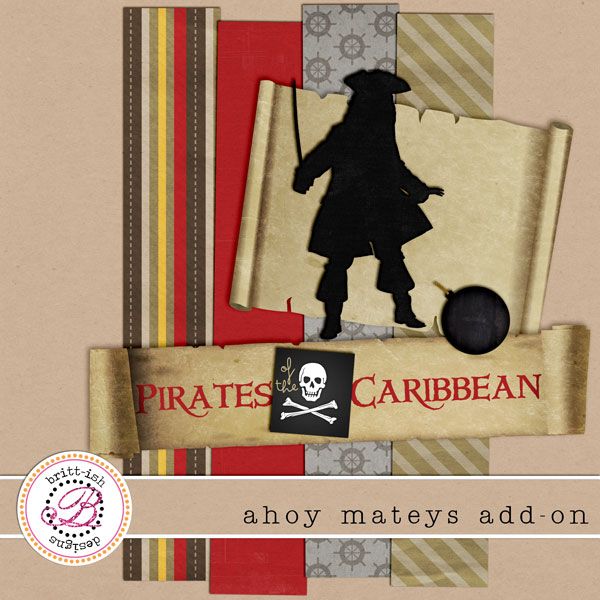 [DOWNLOAD HERE]
Now, before I go, I just had to give a shout out to a couple amazing pages that were shared with me last month, using
September's featured kit
.
Katie (aka angustia17)'s
"Sand Rail"
layout: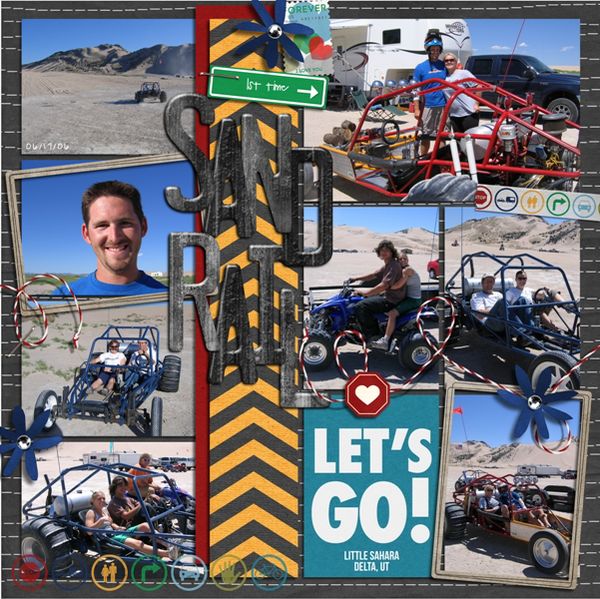 Is this not awesome? I totally love how its kind of pocket style, but kind of not. That long strip of gold and black paper down the center. It's just a great LO and a perfect use of that kit!!
And secondly, Monica (aka Umyesh)'s
"Hank"
layout: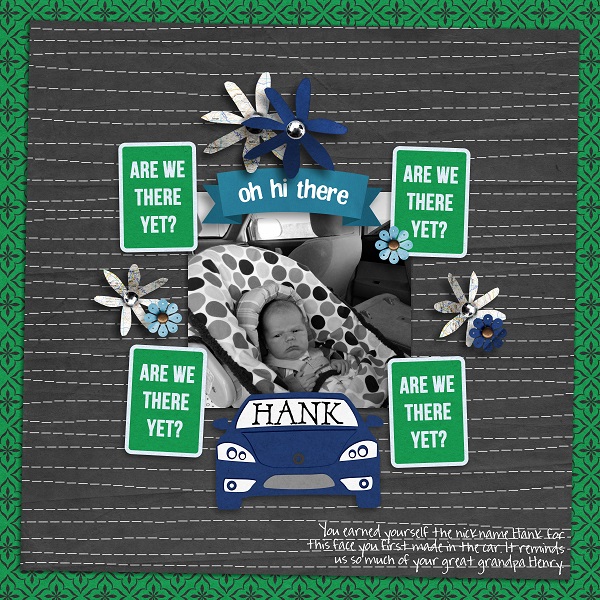 Soooo adorable. That squishy baby face. What a fun idea to use this kit for a baby's car ride. (Fun fact - my two featured scrappers Katie & Monica are SISTERS in real life!! So good job you two!!)
Katie & Monica are getting a free kit of their choice from my store! Watch your email inboxes, ladies.