Ok - I just have to say, I LOVE how the Disney Store is calling it "Magical" Friday instead of Black Friday - "because Magical is the new black"!! Wish I would have thought of that! Magical Friday sounds like so much more fun!

ANYWAY - I've got a fun Black Friday event cooked up and it all kicks of at midnight tomorrow night. After the turkey's been eaten, the naps have been taken, and you're ready to get online and gobble up the deals - be sure to stop by Britt-ish Designs.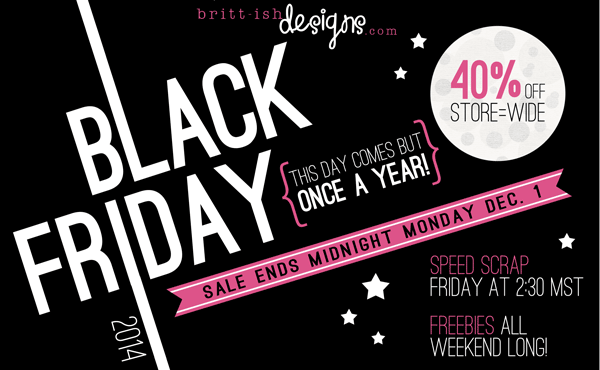 The whole store (minus gift certificates and bundles, obviously) is going to be 40% off! Plus . . .
Join me for a Speed Scrap
FRIDAY AFTERNOON
at 2:30 pm MST (That's 4:30 Eastern, 3:30 Central, and 1:30 Pacific). Hopefully by then you're home from all your Black Friday shopping shenanigans and you'll feel like chatting with me (and scrapping too!). Join me in my chatroom (brittishdesigns.com/chat). I'll be posting the Speed Scrap instructions there, as well as the
BD Facebook page
. Everyone who completes the Speed Scrap will get a super cute FREE TEMPLATE based on one of my own layouts. Hope to see ya there!
The sale will continue through Cyber-Monday. I'll be posting a Facebook Freebie on Cyber-Monday, so you'll just have to keep coming back to see me all weekend long. haha!!
Until then - have a VERY happy Thanksgiving, hopefully full of fun, family and of course FOOD!!!!
The sale starts midnight Thursday night - less than 24 hours away!
TTFN!