Before I jump into our March Featured Product, I have two items of business!!

One is an announcement. Krista Sahlin and I have something exciting cooking for fans of Project Mouse. We're throwing a Project Mouse FAN-niversary celebration in just a few weeks!! It's going to be so much fun. STAY TUNED!! Much more information is coming.

And two: our February Featured Product (Project Mouse: Princess Edition). We had 4 amazing scrappers enter the challenge and I picked one favorite to win the $10 Gift Certificate!! And that winner is . . .


Marisa Socio with her "Merida" layout.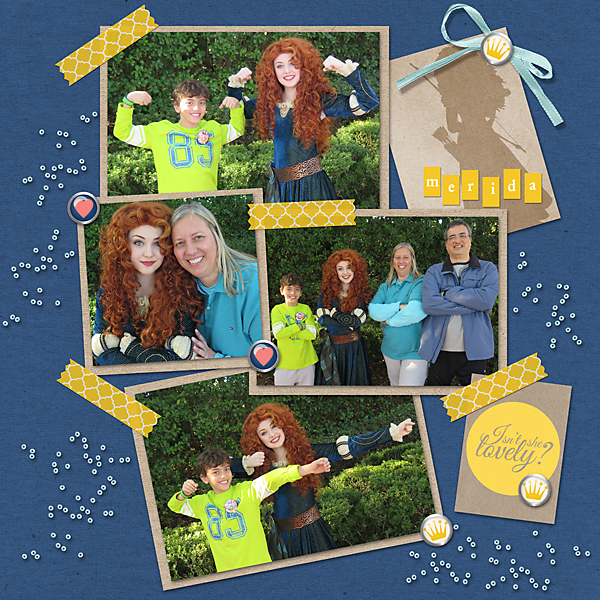 Click the image above to see her layout in the gallery and leave her some love! Congrats Marisa!! Enjoy your Gift Certificate.
---
Ok ok ok. On to the March Featured Product!!! Krista Sahlin and I are both featuring the one that started it all . . . Project Mouse: Basics.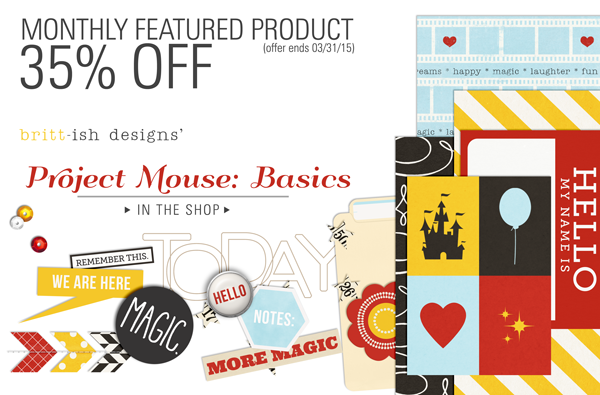 When Krista and I first started Project Mouse - we were just two Disney-lovin' moms looking for a way to beautiful, but quickly and easily scrap our cherished Disney memories.
Remember this?
Since then, Project Mouse has grown into a brand all its own. With so many great additions. But it all stemmed from one fantastic bundle!! And it's our pleasure to feature this bad boy all through March!!
Project Mouse: Bundle No. 1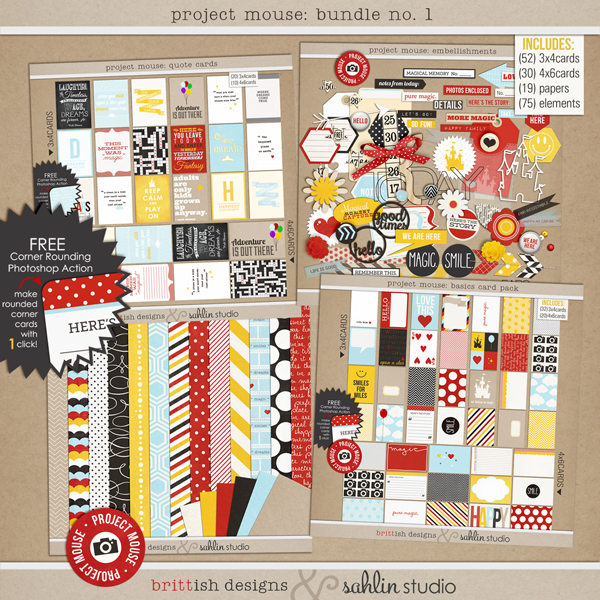 The Bundle is ALWAYS 30% off!! $17.99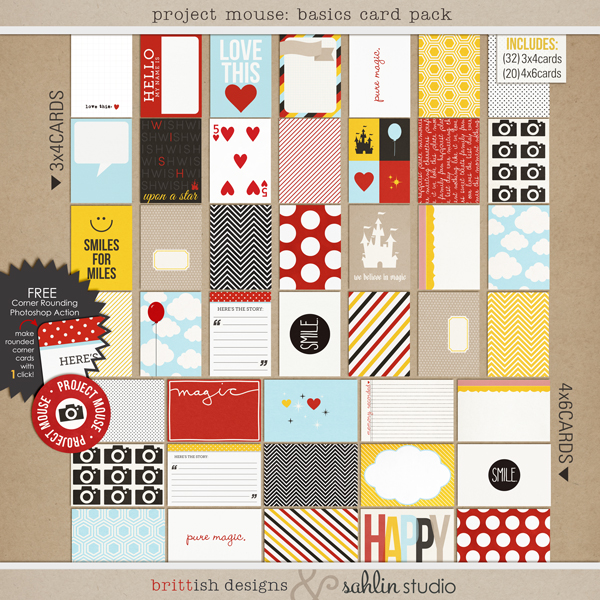 Regular Price: $7.99
35% OFF THIS MONTH! Sale Price: $5.19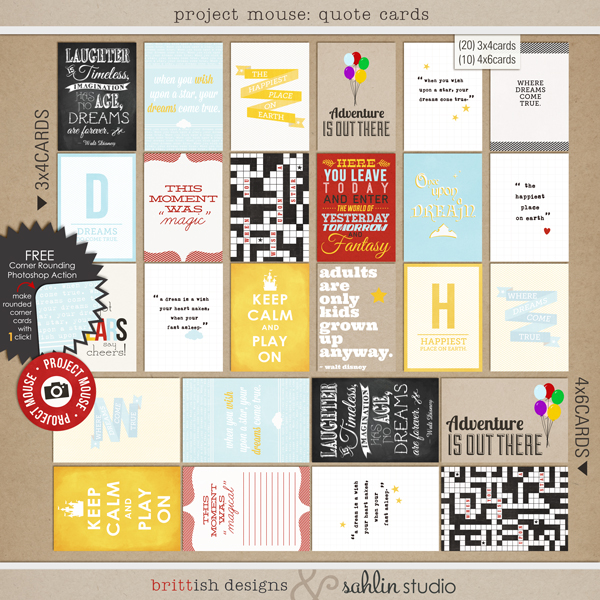 Regular Price: $6.99
35% OFF THIS MONTH! Sale Price: $4.54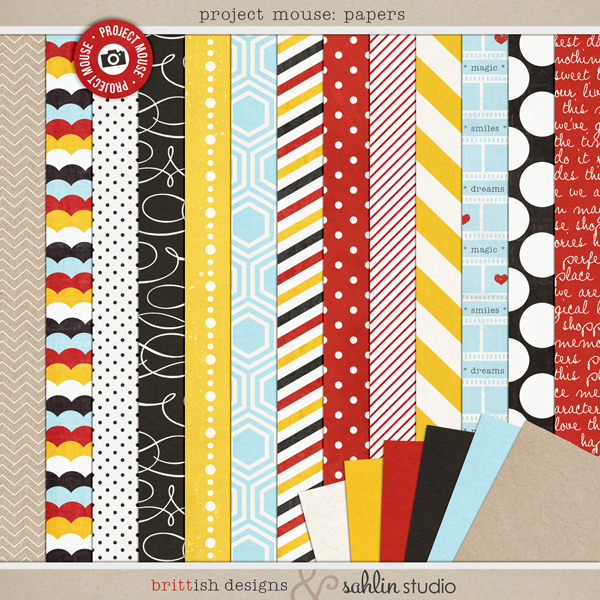 Regular Price: $4.99
35% OFF THIS MONTH! Sale Price: $3.24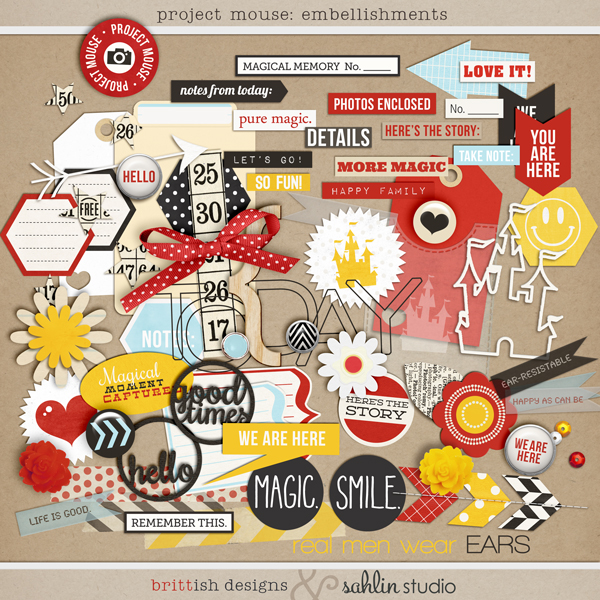 Regular Price: $5.99
35% OFF THIS MONTH! Sale Price: $3.89
---
SALE:
Featured Products are on sale 35% off all month long! (The bundle is actually always discounted 30%!)
PLAY:
Your challenge is to create a layout using Project Mouse: Bundle No. 1! You could win a $10 Gift Certificate to my shop. To enter, upload your new layout to the Britt-ish Designs Challenge Gallery and then come back and leave a link in the comments. (Please play along no matter when you bought this edition of Project Mouse!)
---
There are so many amazing and inspiring layouts that feature the Project Mouse: Basics products. If I posted them all here, this post would never end. So what Krista and I decided to do was leave you with two awesome links for you to check out and see just exactly what Project Mouse can do!! Peruse these links at your leisure. Your Disney-lovin' heart will soar!
♥ My first original
Welcome to Project Mouse
blog post (be sure to snag the freebie you find there).
♥ The
Project Mouse Pinterest Board
. (Do you follow it? You should!)
(psssst Krista reposted her original freebie on her blog too! If you don't already have it, you can go grab it now)
Hope you have fun going back to the basics of Project Mouse with us this month!! Don't forget to play along and enter to win that $10 GC! Ta ta for now.