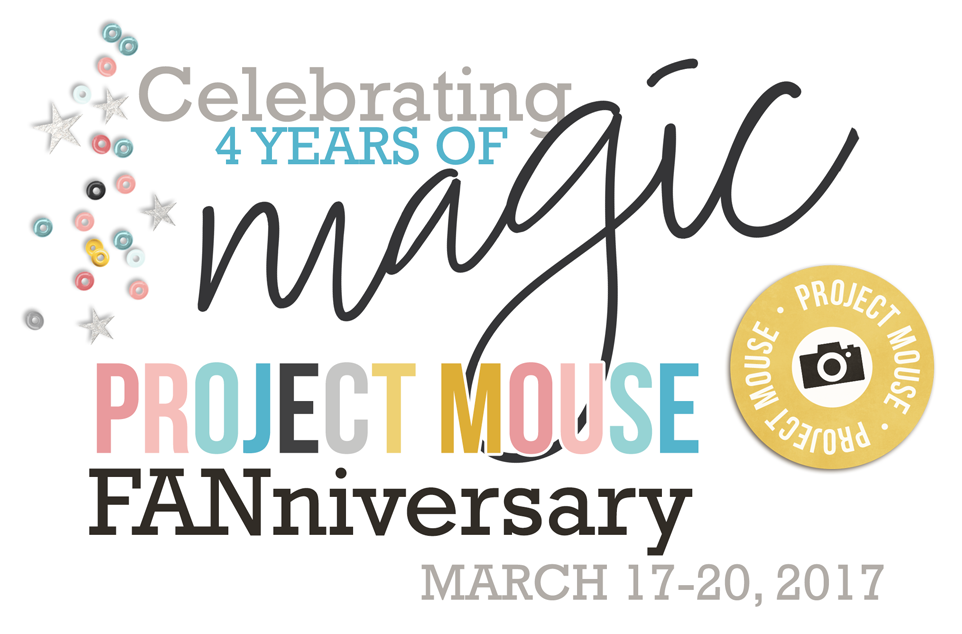 We are SO excited about this coming weekend. We are celebrating 4 years of magic with Project Mouse. I can't believe it's already been 4 years!! We hope you'll join us for lots of scrapping, a great sale, challenges, games, prizes, and all sorts of FUN! The event is being hosted at Krista's shop - The Lily Pad. There's a
whole board in their forum
devoted to this celebration. So that's definitely where you'll need to be watching all weekend long.
(HINT - Our first posts/game is going up tomorrow morning!)

Ok, so listen. Have you guys heard about "Watch Cheryl Scrap"? I didn't know about it (I must have been living under a rock) until recently, but the wonderfully talented Chery (aka gonewiththewind) lets you watch her scrap a full layout start to finish LIVE!!! Then afterwards she usually posts them to her
YouTube channel
. The-LilyPad.com hosts the live events, and it's totally fascinating to see how she works!
So - guess what!!! We've teamed up with Cheryl and she's going to do THREE of her very popular LIVE sessions during our Project Mouse FANniversary weekend all with Project Mouse products. One of the session YOURS TRULY is going to be scraping a pocket style page right along side Cheryl. So you get to see ME scrap too!! And Krista will be there as well, answering questions and hanging out with us. I am SO excited!! We are going to have so much fun! OH YEAH!! And everyone who attends any one of her sessions is getting a super sweet little PM PRIZE!!
Se be sure to arrange your schedule to join us!
FRI, March 17, 2017 at 9 pm EDT/6 pm PDT
SAT, March 18, 2017 at 2 pm EDT/11 am PDT [with special guests Krista & Britt]
SUN, March 19, 2017 at 6 pm EDT/3 pm PDT
You'll need headphones or speakers to be able to hear us!
Here's the link to enter the Adobe Connect Room:
link
So come and watch Cheryl (and ME) Scrap! YAY!
There's also a regular chat in TLP chatroom on Saturday with me and Krista. We'll be there to chit chat, shoot the breeze, answer questions, whatever you want!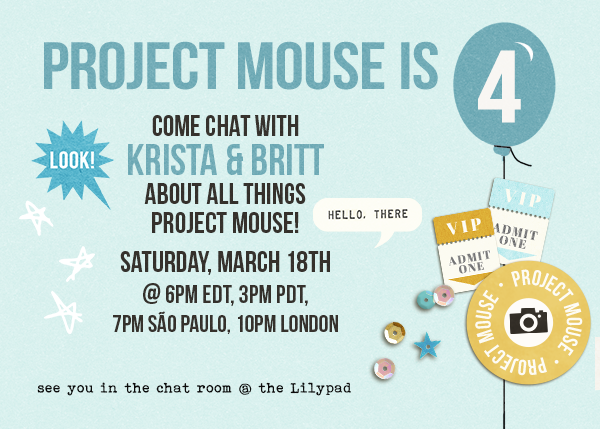 Please join us in the
LilyPad Chat Room
on Saturday, March 18th!!
6pm EDT, 5pm CDT, 4pm MDT, 3pm PDT
All our chat attendees will get another awesome Project Mouse gift!!
That's just the beginning of what we've got cooked up for this weekend. I hope to see you all playing along!!